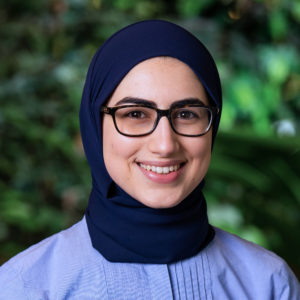 When Noor Hamideh, a second-year medical student, arrived on campus, Feinberg's Muslim Student Association was defunct. It hadn't operated for several years, but Hamideh and several other students were determined to change that.
Hamideh, along with her classmates, restarted the organization and began to advocate for students who are Muslim, as well as help non-Muslim Feinberg students develop skills to interact with patients from an Islamic background.
Hamideh spent her childhood between the United States, Canada and Syria, but calls Ontario home. During her undergraduate education at McMaster University, she worked with Syrian refugees and studied how the Canadian health system helped them and ways it could be improved. Her experience in health access and health equity has fed an interest in pediatrics, which is on her residency shortlist, according to Hamideh.
Read a Q&A with Hamideh below.
Why did you choose Feinberg?
Apart from its reputation as a national leader in medical education, what first drew me to Feinberg was its curriculum, especially the Problem-Based Learning (PBL) component. PBL was developed at my alma mater, so I had the opportunity to take some PBL-based courses as an undergraduate. Having the responsibility to teach and learn from my peers motivated me to learn as much as I could about the topic, and I was excited to continue that tradition in medical school.
On my interview day, I was impressed by the collegiality between faculty and students. It really seemed like students were treated as professionals with agency over their learning.
I was also drawn to Feinberg because of its location. Chicago is a great city to learn medicine and find a community. Getting to live five minutes from beautiful Lake Michigan doesn't hurt either!
What are your medical or research interests?
I am interested in healthcare access and equity. During college, I wrote my thesis on the barriers and facilitators of refugee healthcare access. At the time, Canada had recently welcomed thousands of Syrian refugees, and having lived in Syria myself, I was in a unique position to engage with that community and help understand how our healthcare system was and wasn't meeting its needs.
Being at Feinberg also encouraged me to grow my interest in pediatrics. My AOSC project is on pediatricians' management of eczema in infants, and through that, I've gotten to shadow in the Division of Allergy and Immunology at Lurie Children's, which I've really enjoyed.
Do you participate in any organizations or societies at Feinberg?
I am the president of the Muslim Student Association and I'm on the board of the Pediatrics and Med-Peds Interest Groups. I also regularly volunteer at NLVS/Devon Clinic and CYP Clinic.
Can you tell me about your time as president of the Muslim Student Association? Why did you get involved? What have your goals been, and how have you worked towards them?
When I started at Feinberg, there wasn't an active Muslim Student Association (MSA). A few classmates and I wanted to have an official voice for Muslim students on campus, so in February 2019, Basel Ahmed, Taha Osman, Shahzeb Hassan, Osama Siddiqui and I decided to restart the MSA.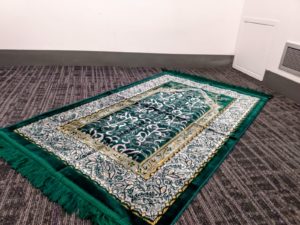 Our main goal this year was to advocate for a prayer and meditation space in the medical school. The deans and Student Senate were very receptive to our proposal, and I'm happy to say that Galter Library's new 24-hour space will include a wellness room that can be used for prayer.
Another one of our goals was to teach our classmates about some of the nuances of caring for Muslim patients. Last April, we hosted a lunch talk on caring for patients with diabetes who fast during Ramadan and were surprised to see how many of our classmates wanted to learn about that. However, our most popular event by far has been our lunch talk with Dr. Husain Sattar, the founder of a very popular pathology textbook series called Pathoma.
What has been your most rewarding experience at Feinberg?
I started long-distance running! Less than one year ago, I had a sedentary lifestyle and could barely run a mile — last weekend I ran 12. During the cardiovascular block, we had a great thread on lifestyle medicine, and that's what pushed me to make the change and lead a more active life. The experience gave me an appreciation for just how challenging it is for our patients to make a long-term change in their lifestyle, but also how gratifying it can be.
What advice would you give to prospective medical students?
Medical school will be extremely challenging, but that doesn't mean you can't enjoy it. Instead of seeing medical school as an obstacle to overcome in order to attain happiness, try to find happiness in the process. We chose medicine because it sparks joy in us in one way or another, and it's important to keep that in mind and find something that grounds you during the seemingly endless barrage of exams, whether that's volunteering at a clinic, researching something you're curious about, or advocating for a cause you believe in.