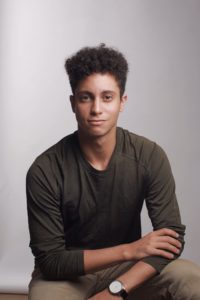 A high school film class eventually led to a lifelong passion for filmmaking and directing for first-year medical student Mike Boctor, who was also inspired to pursue a career in medicine around the same time. His interest in medicine was sparked after a memorable physician helped treat him physically and emotionally when he was diagnosed with eosinophilic esophagitis, a chronic, allergic inflammatory disease of the esophagus.
Boctor's dual passions for film and medicine followed him to college where he led a student film production agency while pursuing a major in biomolecular sciences at the University of Michigan.
During a gap year before beginning medical school at Feinberg, Boctor directed a short film depicting real stories from undergraduate sexual assault survivors as part of a larger research study. The film, called "Finding the Strength to Heal," has won awards from film festivals in Australia and Los Angeles and is still on its festival trail. Boctor, who doesn't plan to stop filmmaking anytime soon, hopes the film can be used for research and inspire other film projects as he continues his medical school career.
"I've done a lot through film — I'm very proud of what I've done. I've been able to help share the stories of others and affect change to some extent, but I realized that physicians not only have an opportunity to help share those stories, but they also get the opportunity to help shape those stories, as well," Boctor said.
Read a Q&A with Boctor below.
Why did you choose Feinberg?
The reason I chose Feinberg was that I felt it was possible to structure my education to support the continuing development of my passions in filmmaking, service and advocacy. That wasn't something I could easily find at other schools. The curriculum here is very well structured to be individualized and that was really important to me.
How did you get involved with directing the film?
At the time, Dr. Laura Sinko was getting her PhD at the University of Michigan. For her dissertation, she did a project that focused on the individual and contextual influences of trauma healing for undergraduate student survivors of sexual assault. She interviewed many powerful, amazing woman who had unbelievable stories and collected some incredible data. But she didn't feel right just putting her findings on paper, so she contracted me to help her disseminate her findings through film. As the director, I was responsible for interpreting Sinko's research data and finding the creative vision to communicate it through an artistic and compelling video — and I feel like we did that.
What was your biggest challenge when making the film?
The biggest challenge was determining my approach to directing, because I needed to be very careful considering how sensitive the topic was. I was also the only male on the production team. I had to make sure that I did my research. I had to make sure that I listened. Listening was key because I have never experienced the kind of emotions the survivors have.
Thankfully I worked with an incredible team of women who were so smart, so encouraging, so powerful and so driven. The original goal of the film was just a talking head, to have just the actors reading survivors testimonies. But together, we had this idea to take it one step further because we wanted to do justice to the survivors' stories. It took, what should've taken a few days to create, roughly four months because we had to fulfill the massive shot list we created.
What is our current understanding of the healing process for survivors of sexual assault?
I can speak from the perspective of health care providers, in that it's important for us to understand that the healing process is on a spectrum in terms of where people are at, emotionally and mentally. Some people may not be able to talk about their experiences just yet. Some people are at the point where talking about it is the best thing that they could possibly do. It's very important to be cautious and try to understand where a person is at. Healing doesn't fit a specific mold; it's something that as a friend, family member or healthcare provider you have to understand and work with. There's a quote in the film from a survivor: "Healing is kind of like an elevator — you can get off this floor, but it just might not be your floor." That's so important to remember.
If there was one thing that you'd want others to take away this film, what would that be?
To listen. As the director of the film, my job was to listen. As a community member, as someone entering the medical profession, as a future healthcare provider, listening is key. You must believe, listen and constantly provide individualized support to survivors.
I remember one survivor whose story was portrayed in the film attended the film's premier screening.  There was a particular moment while watching the film when she became extremely emotional and invited her friends to watch the film to get a better understanding of the adversity she faced. As a filmmaker, that kind of approval of authenticity is the most rewarding thing you could possibly hear from someone, to know you did justice to their story.
What are your future plans with filmmaking and medicine?
Film creates more accessible ways of understanding and communicating the complexities of our world and as someone dedicated to the medical profession, I'm using film to investigate ways of clearly communicating implications and advancements in the scientific and medical fields. While discovery is essential, clear dissemination is absolutely necessary to move these fields forward. With future projects, I will continue to use my combined passions in film and medicine to bring empathy and understanding to patients, physicians and communities. Though I am committed to a life and career in the field of medicine, I do not intend on stowing away my camera in exchange for a stethoscope. I've had the privilege of sharing many stories and I want to continue to do that.