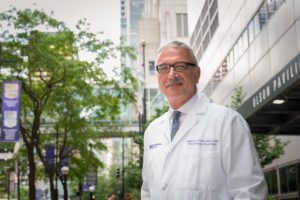 A new review has found that a combination of endocrine inhibitors and hormone therapy can prolong progression-free survival for patients with hormone-receptor positive metastatic breast cancer, as compared to either chemotherapy or hormone therapy alone.
Published in Lancet Oncology, the findings show this combination therapy should be used as a first-line treatment in hormone receptor-positive patients, according to Massimo Cristofanilli, MD, professor of Medicine in the Division of Hematology and Oncology and co-author of the study.
"This is important because we are now supported by data to use endocrine therapy in all patients with hormone-positive metastatic breast cancer, irrespective of the site of recurrence," Cristofanilli said.
The most common subtype of metastatic breast cancer is hormone receptor-positive, human epidermal growth factor receptor 2 (HER2)-negative breast cancer, accounting for approximately 65 percent of all metastatic breast tumors. Despite a favorable prognosis relative to other subtypes of breast cancer, patient outcomes for hormone receptor-positive, HER2-negative breast cancer remain poor with a median overall survival of just 36 months.
In the past decade, new endocrine therapies have been developed and shown to be effective as a first-line treatment. These therapies, collectively referred to as cyclin-dependent kinase (CDK) 4/6 inhibitors, work by interrupting signals that stimulate proliferation of cancer cells. These therapies are usually used in conjunction with hormone therapies that block estrogen, another source of fuel for cancer cells.
However, chemotherapy ­— with its attendant side affects ­— continues to be used as a first-line therapy, even in relatively early-stage disease. This is due in part to the lack of randomized studies that pit these treatments head-to-head, according to Cristofanilli, who is also a member of and associate director for Translational Research for the Robert H. Lurie Comprehensive Cancer Center of Northwestern University.
The current study analyzed all phase 2 and 3 randomized trials from 2000 to 2017 investigating either chemotherapy or hormone therapy, with or without endocrine therapy. In total, results from more than 50,000 patients were included in the analysis, which found that CDK4/6 inhibitors plus hormone therapies prolonged progression-free survival when compared to hormone therapies alone.
Moreover, no chemotherapy regimen — with or without CDK4/6 inhibitor therapy — was better than CDK4/6 therapy combined with hormone therapy.
These findings demonstrate the superior effectiveness of the combination therapy over chemotherapy as a first-line option, according to Cristofanilli, but investigators still should explore targeted treatments for the approximately 35 percent of breast cancer patients who have hormone receptor-negative or HER2-positive disease.
"Future studies will need to evaluate the role of targeted therapies in patients with endocrine-refractory disease that may not benefit from these treatments," Cristofanilli said.
This study was supported by National Institutes of Health grant K12 CA157688.