$10 million will support the Simpson Querrey Center for Neurogenetics at Northwestern University Feinberg School of Medicine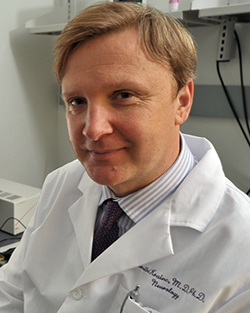 A new $10 million gift from Northwestern University trustees and supporters Louis A. Simpson '58 and Kimberly K. Querrey will give scientists at Northwestern University Feinberg School of Medicine crucial resources to develop personalized treatments for neurological diseases.
The gift will support a center now known as the Simpson Querrey Center for Neurogenetics and enable new investigations on the genetic and environmental factors that contribute to diseases such as Parkinson's and other genetic neurological disorders.
"Kimberly and Lou are great friends of the University and committed partners in our efforts to improve human health. I have no doubt that their gift will help our scientists move the needle significantly in the field of neurogenetics research," said University President Morton Schapiro. "We are forever grateful to Kimberly and Lou for this investment."
Scientists in the center are already conducting genome analysis to develop personalized action plans for patients. After detecting the cellular pathways and targets a disease disrupts in patient neurons, the team works to identify treatment strategies tailored to individual patients.
"This tremendous gift will allow our scientists to build a platform for personalized medicine, one that will impact the lives of patients with devastating neurodegenerative diseases that today have few effective treatment options," said Eric G. Neilson, MD, vice president for medical affairs and Lewis Landsberg Dean. "We are confident the Simpson Querrey Center for Neurogenetics will transform clinical care at Northwestern and beyond with earlier and more effective interventions. And we are incredibly appreciative of Kimberly and Lou's support."
The center is led by Dimitri Krainc, MD, PhD, whose research has focused on understanding how mutations in genes lead to degeneration in patient-derived neurons.
A study led by Krainc and published in Science found that some of the key pathological features of Parkinson's were only seen in human neurons and not in mouse models, further emphasizing the value of patient-derived neurons for drug development in Parkinson's disease. His laboratory recently showed how a mutation in the gene GBA1 increases a patient's risk of Parkinson's disease. The team was able to reduce the harmful effects of the mutation and alleviate symptoms of the disease by amplifying healthy enzymes in brain cells.
"I am extremely grateful to Kimberly Querrey and Lou Simpson for their visionary and generous gift that will support development of personalized neurology at Northwestern," said Krainc, who is also the chair and Aaron Montgomery Ward Professor of Neurology. "The center will bring together experts in genetics, bioinformatics, medicinal chemistry, biomedical engineering, clinical trials, biomarkers, and cell and molecular biology to translate fundamental discoveries into clinical practice."
The gift will also fund the center's operations, seminar and symposium programs, pilot studies by Northwestern faculty, and the recruitment of outstanding investigators in the area of neurogenetics.
"We are thrilled to continue supporting the collaborative research coming out of Feinberg and Northwestern to transform human health," Querrey said.
Continuing a Legacy of Support Across Northwestern
Simpson and Querrey also recently made a $10 million gift to Northwestern's Center for Bio-Integrated Electronics, where scientists are developing biosensors and other technology that integrate seamlessly with the body to measure physiological health. Another $2 million gift from the couple will support NUGoKidney and its SciHigh Summer Program. Coordinated through the medical school's Division of Nephrology and Hypertension in the Department of Medicine, the immersive eight-week program allows talented high school students from disadvantaged backgrounds to participate in biomedical research under the guidance of mentors.
For more than a decade, Simpson and Querrey have consistently supported Northwestern. Through We Will. The Campaign for Northwestern, many new strategic initiatives have been made possible by their generosity, including the Louis A. Simpson and Kimberly K. Querrey Biomedical Research Center, a 14-story, 600,000-square-foot building that opened in June, significantly expanding Feinberg's biomedical research enterprise.