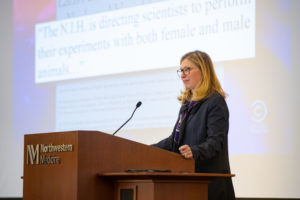 The second annual Women in Medicine symposium brought together Northwestern educators, scientists, trainees and students to highlight pioneers who broke the gender barrier in the early 20th century, and promote solutions to the unique challenges still faced by women in the medical field today.
Held Oct. 11, the symposium featured presentations from Northwestern leaders as well as guest speakers, along with several panel discussions and breakout sessions.
"Research at Stanford found that female scientists are more likely to analyze their data by sex and gender, but the majority of our biomedical workforce is actually male," said Teresa Woodruff, '89 PhD, dean of the Graduate School, associate provost for Graduate Education, and chief of Reproductive Science in Medicine in the Department of Obstetrics and Gynecology. "Does this have an impact on the kind of science we do and the way that science ultimately impacts our health?"
Only in 2016 did the National Institutes of Health mandate that sex be considered as a biological variable in basic science research. Before then, most animal and clinical studies only considered male organisms, which masked sex differences in drugs and treatments. This oversight, which has resulted in medications like Ambien being dangerously mis-dosed for women, is reflective of the gender imbalance in science, said Woodruff, who is also founder and co-director of the Women's Health Research Institute (WHRI).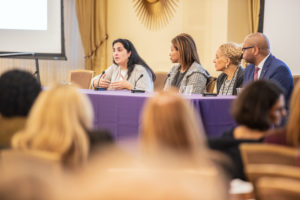 Recently, Woodruff examined changes in grant applications since the 2016 decree, finding sizable increases in proposed studies that considered sex as a biological variable — indicating an appetite among scientists for asking this sex difference question.
"There's a whole group of studies that can be done that have never been done before. It is the most exciting time in science," Woodruff said. "It's as if we just purchased the Louisiana territory — it's all out there for you to discover, and there are so many questions to ask about women, about health, about disease, through the lens of sex as a biological variable."
While 50 percent of Feinberg faculty are women — matching the gender breakdown seen at the student and resident levels — fewer are full professors, said William Lowe, Jr, MD, vice dean for Academic Affairs and the Thomas D. Spies Professor of Genetic Metabolism, though that gap should close over the upcoming years.
"At Feinberg, women are making important contributions to the academic mission, to the research side, and in the clinic," said Lowe, who is also a professor of Medicine in the Division of Endocrinology, as he welcomed attendees to the daylong event. "I fully expect this number to grow substantially over the next few years, I think we have come a long way."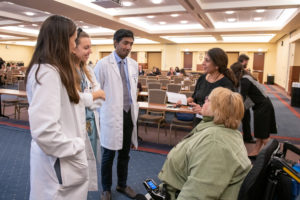 Women are an invaluable part of any healthcare team, supporting a diversity of thought that results in better decision-making, said Stephanie Spottswood, MD, MSPH, professor of Pediatrics at Vanderbilt University School of Medicine. However, they aren't always compensated fairly for these contributions: lower salaries for women still plague healthcare, in addition to many other traditionally male-dominated industries.
To root out this problem, advocates first need to identify it, according to Spottswood.
"One of the most important things to remember is that what is not measured does not count," Spottswood said. "It is important to remember that gender gaps in promotion and pay cannot be adjusted if the data are not collected."
As the first female chair of an academic neurosurgery department, Karin Muraszko, MD, of the University of Michigan, experienced many of these same issues: unconscious biases, childcare responsibilities and a lack of mentorship opportunities are all burdens shouldered by women.
When Muraszko was appointed chair in 2005, she made a conscious effort to create a departmental structure that was supportive, reforming the mentorship program and teaching department members to recognize their biases through leadership development courses.
"I think it's altered the flavor and landscape of our department," Muraszko said. "I'm optimistic that if we can not only recognize the problems but deal with them, we're going to see those changes on a larger basis."