Traditional paper towels compete to soak up the most liquid, but few kill germs like the PeelTowel: a citrus peel-based, anti-microbial paper towel created by three Chicagoland high school students, and tested in the laboratory of Alan Hauser, MD, PhD, vice chair of the Department of Microbiology-Immunology.
The group found paper towels made from orange, lime or kiwi peels eradicated up to 95 percent of a common Escherichia coli bacteria in a laboratory setting. They've won several student science competitions and published their findings in the Journal of Emerging Investigators, a peer-reviewed journal that highlights science by middle and high school students.
"I feel it was very worthwhile and enjoyable for me, it's going to be fun for me to watch these students as they move forward and see what they accomplish," said Hauser, who is also a professor of Medicine in the Division of Infectious Diseases and a member of the Robert H. Lurie Comprehensive Cancer Center of Northwestern University.
Three students hailing from the Chicago suburb of Aurora were motivated to create the PeelTowel after traveling in India and witnessing the problems caused by a lack of access to hygiene and clean water.
"We observed that many families lack access to water and proper hygiene; in fact, through research we found that more than 35 percent of the world's population does not have access to adequate hygiene," said Prarthana Prashanth, a sophomore at the Illinois Mathematics and Science Academy. "These experiences and statistics inspired us to look for more accessible hygiene options by using organic waste."
Citrus peels have well-documented antimicrobial properties — vitamin C and citric acid can help kill bacteria — so the students devised the PeelTowel, made from a paste of crushed fruit peels and paper, then dried in a thin film on a screen to create a paper towel-like material.
Of course, a paper towel that doesn't absorb water isn't useful, so the students first tested the absorbency of the PeelTowel, finding it was actually up to three times more absorbent as a regular paper towel.
Next, they contacted Hauser, who helped the students design and perform a bacteria culture experiment. The group introduced Escherichia coli — a common gut bacteria — to the paper towels and incubated the mixture, counting the number of bacteria that survived at one hour and at 18 hours. To the students' surprise, the lime peel variety performed extremely well — killing 95 percent of E. coli bacteria after 18 hours.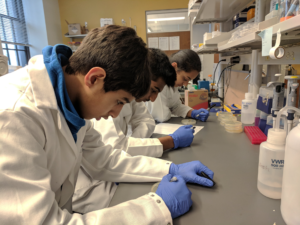 "When I found out the PeelTowel killed bacteria I was exhilarated — although slightly confused as I never expected that such a creation would work," said Sikrant Lokesh, a sophomore at Waubonsie Valley High School.
The orange towel also performed well, while the kiwi and control paper towels all contained more bacteria than were present at the beginning. The students submitted their project to several student science competitions in Illinois and won 2nd place in the 2018 Illinois Army Educational Outreach Program Ecybermission Competition, 2nd place in 2018 Illinois Institute of Technology's Innovation Challenge and most recently won first place in the 2019 Illinois Google Science Fair competition.
The experience of working in a laboratory — sterilizing equipment, methodically testing every variable and writing a manuscript — gave the students an inside look into how science actually works, something they can take with them as they apply to college and beyond.
"The experience was extremely valuable," Prashanth said.
In addition, while Hauser believes Feinberg faculty do an exceptional job of training graduate students and postdoctoral fellows, starting even earlier can help steer interested students into science, he said.
"I think it is important to have contact with these students at an early level, because a lot of high school students are already deciding whether they want a career in science or something else," Hauser said. "This is one way Northwestern faculty can contribute beyond simply bringing in grant dollars or teaching medical or graduate students. There are other things that the faculty here do that are very good for the greater community, and I think this is just one example."
The group of students plan to continue refining the PeelTowel, said Milind Sagaram, a sophomore at Metea Valley High School, and they aspire to eventually put the products in the hands of people that need them.
"In the future, we would like to test our prototypes against other harmful skin bacteria, and we would like to research increasing the shelf life of our prototype and making it easier to use." Sagaram said. "Our goal is to help people lacking access to adequate hygiene by donating PeelTowels."