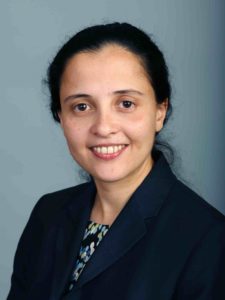 A new Northwestern Medicine study has affirmed the importance of monitoring age-related macular degeneration to ensure the disease does not progress, and provided evidence that aspects of the early-stage disease may actually protect against later progression.
Amani Fawzi, MD, the Cyrus Tang and Lee Jampol Professor of Ophthalmology, was the senior author of the study published in journal PLOS One.
AMD is a common cause of irreversible vision loss, and early- and intermediate-stage AMD is diagnosed by the presence of drusen: yellow fatty lesions under the retina. These lesions are mostly harmless, and most patients are diagnosed at this stage and have little vision loss.
In contrast, later stage patients have newly formed blood vessels invading the retina, called choroidal neovascularization (CNV). These blood vessels can leak into the eye and cause rapid vision loss, but previous studies have found that if these blood vessels remain intact, they may in fact be beneficial, Fawzi said.
"The presence of these lesions, while concerning, can also theoretically be protective to the outer retina," Fawzi said. "The underlying concept relates to the idea that these vascular lesions are adaptive, vascular channels, providing nourishment to the delicate outer retina, when the normal choriocapillaris fails."
The mechanism that causes some vessels to leak — called exudative CNV — while others remain intact is unknown, but the new vessels are at not harmful until they start to leak. This means the current standard of care for patients with subclinical CNV is to simply monitor the condition, instead of treating patients with drugs that might slow blood vessel growth, according to Fawzi.
Until recently, diagnosing subclinical CNV was impossible without the use of invasive dye-based studies, but the advent of optical coherence tomography angiography (OCT angiography) has given doctors and clinicians the ability to identify subclinical CNV, Fawzi said.
"Before we had OCT angiography, which is quite convenient, rapid and non-invasive, we were stuck using invasive imaging with intravenous dyes, a test that could not be performed routinely in clinical care," Fawzi said.
However, the literature on subclinical CNV remains sparse, and current estimates peg subclinical CNV rates among patients with AMD at between 6 and 27 percent.
In the current study, investigators studied 34 patients with AMD, each with one leaky eye and one eye with either intermediate AMD or intact, non-leaky CNV. Using OCT angiography modality to determine subclinical CNV, they followed up with patients after one year to see how many cases progressed to exudative CNV.
Of the five eyes with subclinical CNV, just one had developed exudative CNV after one year, according to the study, and none of the eyes without subclinical CNV had developed exudative CNV. While no specific measurements were predictive of conversion, these results are in line with previous work on the topic, and Fawzi believes monitoring patients with subclinical CNV is an effective way to detect the earliest signs of conversion and begin treatment only when the condition converts to exudative CNV.
"Once these lesions are identified in an eye, we insist on seeing the patient on a more stringent follow-up schedule, and we use the OCT angiography technology at each of these visits," Fawzi said. "This heightened vigilance allows us to detect the exudative conversion, which occurs in about one-fifth of these eyes, a lot more readily."
This work was supported by National Institutes of Health grant 1DP3DK108248.