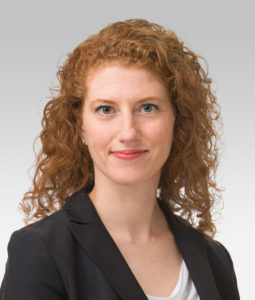 Constadina Arvanitis, PhD, research associate professor of Cell and Developmental Biology, has been named director of the Center for Advanced Microscopy and Nikon Imaging Center.
"It is an honor to be selected," said Arvanitis, who was previously interim director of the Center for Advanced Microscopy (CAM) and manager of the Nikon Imaging Center. "I have been a part of the CAM for years and have seen it grow into a world-class facility. In this next chapter, I am looking forward to expanding our educational mission and microscopy services to meet the cutting edge needs of our scientists."
Arvanitis received her PhD in chemical and systems biology from Stanford University. Her research focused on mechanisms of tumor regression upon oncogene inactivation.
She was a postdoctoral fellow in the laboratory of Leong Chew, PhD (one of CAM's former directors), where she studied the cytoskeletal rearrangements that occur in endothelial cells when cancer cells breach the endothelium during tumor cell extravasation.
Now, she takes the reins at the CAM: the one-stop shop for microscopy at Feinberg. The core facility offers a wide range of imaging services and serves more than 650 people every year, according to Arvanitis.
"We do everything from single-molecule all the way up to whole-animal imaging," said Arvanitis, who is also a member of the Robert H. Lurie Cancer Center of Northwestern University.
One cutting-edge technique is super-resolution microscopy. Since the invention of the microscope, resolution was limited by the diffraction limit of light: the "spreading out" of a light wave when it passes through an optical system. However, scientists punched through that limit a decade ago with new techniques, including using specially patterned fields of light to achieve higher resolution than ever before.
"It used to be you were limited to 200 nanometer resolution," Arvanitis said. "Now, with super-resolution microscopy, we can get down much lower than that: We have two instruments, one of which gets down into the 30 nanometer range."
The CAM also offers confocal and multi-photon microscopy, techniques that can peer deep into tissue or offer three-dimensional views of individual cells. But, the center is focused on more than obtaining images — Arvanitis plans to expand the educational mission of the CAM, advertising how the CAM can help members of the Northwestern community.
"We want to spin up more workshops and seminars, so people understand the power of what we offer and how that might impact their science," Arvanitis said.
New techniques like light sheet microscopy and expanded image-based quantification are just over the horizon as well, and Arvanitis intends to stay on top of the rapidly moving field.
"For the longest time we were focused on taking images, but now quantification has really become the standard and we're working in that arena too," Arvanitis said. "We want to not only meet the needs of our users, but anticipate their future needs and get out ahead of them."