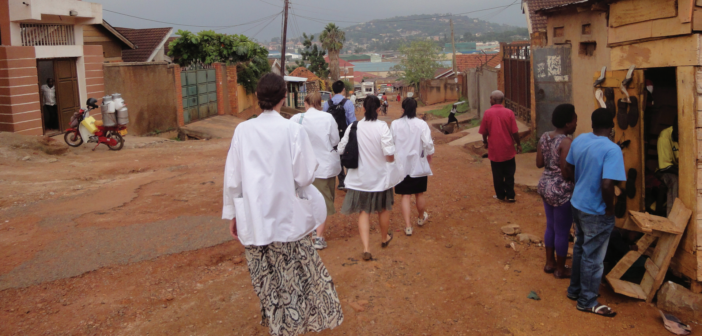 On March 27, approximately 60 members of Northwestern University Feinberg School of Medicine's Center for Global Health gathered for a retreat in Wieboldt Hall to discuss plans for the evolution of a new institute focused on global health with expanded objectives, enhanced collaborations and a renewed mission.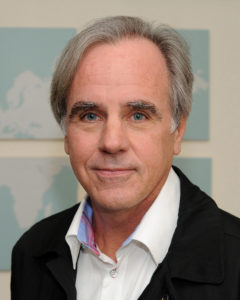 Now, building on the international work of numerous faculty across Northwestern and unifying programs such as the center — until now embedded within the Institute for Public Health and Medicine (IPHAM) — and the Global Health Initiative Fund, Northwestern has established a new Institute for Global Health that aims to improve health in middle- and lower-income countries around the world and deepens the medical school's commitment to solving health problems worldwide.
This new institute will continue strengthening connections throughout Northwestern, according to Robert Murphy, MD, '81 '84 GME, the John Philip Phair Professor of Infectious Diseases and executive director of the new institute.
"There are big pressing needs worldwide; our objective is to help the citizens of these areas through technology and training," said Murphy, also a professor of Biomedical Engineering at the McCormick School of Engineering. "The broader structure of an institute fits better with the multi-disciplinary nature of what we're doing."
Robert Havey, '80 MD, '81 '83 GME, clinical professor of Medicine in the Division of General Medicine and Geriatrics, and director and founder of the Global Health Initiative Fund, will serve as deputy director of the Institute for Global Health.
"The majority of people on this planet have poor access to even basic healthcare, creating both a humanitarian crisis and a critical threat to the social and economic stability of the world," Havey said. "Northwestern's Institute for Global Health will expand upon the work started by the Global Health Initiative and the Center for Global Health, reaching across the university to find innovative and sustainable solutions. Our work will affect the lives of people everywhere, from the streets of Chicago to the villages of sub-Saharan Africa, making it possible for billions of people to live healthy and productive lives."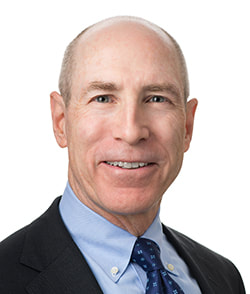 The institute's guiding principles will align with the United Nation's Millennium Development Goals — eight objectives which range from halving extreme poverty to halting the spread of HIV/AIDS, tuberculosis, malaria and other diseases. While older models of global health relied on mission trips or exporting Western-style care to lower-income countries, that approach has fallen out of favor, according to Murphy.
"The whole idea that there's nobody taking care of people in these countries is just not true — they have doctors and facilities, but their doctors may not have great resources," Murphy said.
Instead, Northwestern focuses on nurturing local health and research infrastructures in low- and middle-income countries. For example: One current project, a collaboration with Northwestern Biomedical Engineering, is soliciting proposals from universities all across Africa for devices that can improve management of HIV/AIDS.
This kind of project can help jump-start development cycles, according to Murphy, and develop Northwestern expertise to gird similar projects against the potential pitfalls of later project development.
"It may give you enough for a prototype, so they can continue to raise funds and get into the next steps," Murphy said. "We want to train people to be able to meet their millennium development goals themselves."
The new institute will continue to offer a variety of educational opportunities for students and trainees, including the HBNU Fogarty Global Health Training Program and the McGaw Global Health Clinical Scholars Program.
"This is the logical growth of a successful Center for Global Health. We've expanded over the last 10 years, and now have many centers and a wealth of expertise," Murphy said. "It's time to really grow and become a top-ranked international institute."
The new Institute for Global Health will include the following centers:
Center for Global Health Education, directed by Ashti Doobay-Persaud, MD, assistant professor of Medicine in the Division of Hospital Medicine and of Medical Education. This center administers the institute's education programs, including educational exchange programs for students, residents and fellows and their counterparts in low-, middle- and high-income countries. The center also works with departments and programs across the university to ensure the success of global health education, from focused-workshops to post-graduate training.
Center for Global Communicable Diseases, directed by Murphy. The primary focus is on physician training efforts and global research in infectious diseases including HIV, tuberculosis, viral hepatitis and malaria.
Center for Global Cardiovascular Health, directed by Mark Huffman, MD, MPH, associate professor of Preventive Medicine in the Division of Epidemiology and of Medicine in the Division of Cardiology. This center seeks to improve global cardiovascular health and healthcare across the spectrum of disease prevention.
Center for Global Oncology, directed by Lifang Hou, MD, PhD, chief of Cancer Epidemiology and Prevention in the Department of Preventive Medicine and a professor of Pediatrics. This is a joint center between the Institute for Global Health and the Robert H. Lurie Comprehensive Cancer Center of Northwestern University. Through collaboration with global scientists, the center will pursue detection of cancers at their early stages, thus preventing and curing cancer not only in economically developed areas, but also in low- and middle-income countries.
Center for Global Surgery, directed by Mamta Swaroop, MD, '10 GME, associate professor of Surgery in the Division of Trauma and Critical Care. This center houses the ongoing global surgical initiatives at Northwestern that are funded through donations and NGOs, and aims to apply innovative models for trauma intervention and surgical relief where resources are most lacking.
Kate Klein, MA, MPH, will serve as associate director of the new institute.
While the evolution to an independent institute enables the medical school to heighten its focus on these areas and more, global health will continue to be a priority for many existing medical school departments, institutes and centers that maintain activities and missions in this space. In particular, the new institute will continue a strong collaborative partnership with IPHAM on programming, education, research and administration in many shared areas.
"We are grateful to IPHAM and its leadership for years of critical support of and partnership with the Center for Global Health, and we look forward to a prolific and productive collaboration among these institutes for years to come," Murphy said.
Membership of the new Institute for Global Health includes all faculty who were previously part of IPHAM's Center for Global Health. Faculty interested in joining the new Institute for Global Health can visit the institute website and fill out a request for membership.