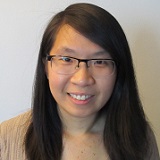 Yvette Wong, PhD, a postdoctoral fellow in the laboratory of Dimitri Krainc, MD, PhD, has received The Warren Alpert Distinguished Scholars Fellowship Award, in support of her exceptional research in the basic neurosciences.
The award will fund Wong's investigation into a newly identified inter-organelle contact site between mitochondria and lysosomes, two key cellular structures. Both mitochondrial and lysosomal dysfunction are associated with multiple neurodegenerative diseases, including Parkinson's disease.
In a landmark paper published in Nature in 2018, Wong and Krainc demonstrated for the first time that mitochondria and lysosomes come into direct contact with each other to regulate their respective functions.
"This award is exciting as it will help us to further understand the fundamental role of mitochondria-lysosome contact sites and their potential misregulation in different neurodegenerative diseases," Wong said. "These studies have important implications for understanding basic neuroscience and potentially identifying new pathways for advancing neurodegenerative disease research and therapeutic development."
There is currently no cure for Parkinson's disease, which affects 10 million patients worldwide and is the second-most common neurodegenerative disorder.
In her research, Wong will examine novel functions of mitochondria-lysosome contacts in human neurons, as well as analyze the role of Parkinson's disease mutations on misregulating contact sites in patient neurons.
Wong received her bachelor's degree in biology and mathematics from Cornell University and her doctorate in neuroscience from the University of Pennsylvania.
Krainc is the Aaron Montgomery Ward Professor and chair of The Ken and Ruth Davee Department of Neurology.
"Yvette has been one of the best trainees I have ever had in my laboratory, and I am very proud of her for receiving this award," said Krainc, also director of the Center for Neurogenetics, a professor of Neurology in the Division of Movement Disorders, and of Neurological Surgery and Physiology. "In addition to her outstanding research, Yvette has also been a valued member of our team, with a strong commitment to helping others."
The Warren Alpert Foundation is a nonprofit organization which supports innovative individuals and organizations dedicated to understanding and curing disease through groundbreaking research, scholarship and service.
The Warren Alpert Distinguished Scholars program provides a total of $400,000 to support postdoctoral scientists of exceptional creativity in the basic neurosciences.