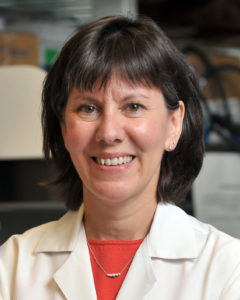 Elizabeth McNally, MD, PhD, the Elizabeth J. Ward Professor of Genetic Medicine and director of the Center for Genetic Medicine, has been elected as a fellow of the National Academy of Inventors (NAI).
She joins the National Academy of Inventors' roster of more than 900 fellows selected for prolific innovations that have made an impact on the quality of life, economic development or welfare of society.
"I'm looking forward to interacting and networking with other members of the Academy," said McNally, also a professor of Medicine in the Division of Cardiology and of Biochemistry and Molecular Genetics. "It isn't just biomedical scientists; it's also engineers and social scientists as well, and it's really exciting to cut across disciplines."
McNally's contributions to genome analysis techniques such as quantitative trait mapping have bettered understanding of rare genetic variation, allowing identification of genes that modify the outcomes of genetic diseases. She is focused on improving bench-to-bedside transition of genetic discoveries. In particular, her search for the genetic modifiers of myopathies has resulted in the detection of several new protective pathways. This work has been published in the Journal of Clinical Investigation, Proceedings of the National Academy of Sciences and Science Translational Medicine.
"Humans are quite genetically different from each other, and it is now possible to use human genetic diversity to understand why some are susceptible, and importantly, why some people are protected from getting certain complications like heart failure and irregular heart rhythms," McNally said.
Identifying and exploiting genetic signals are now driving the drug discovery process. According to McNally, seeing the signal in the noise of genetic variation lets scientists understand pathways that can be protective against certain diseases. Defining how certain genetic variants act, especially when they are protective, tells drug developers to focus on these pathways and interfaces.
"It's a long, hard road to develop any drug and if you stack the odds in your favor at the beginning, not only might you get there faster and at lower cost, but there is also a higher likelihood of success," McNally said. "There is more interest in developing drugs even for rare diseases now, mainly because there are now more biological tools to create these drugs."
Above all, McNally is anticipating the cross-disciplinary partnerships that may spring forth from this society.
"I've more recently been collaborating with Sam Stupp, and combining his engineering knowledge with our biological knowledge is the way you translate discoveries quickly," McNally said. "Knowledge for the sake of knowledge is wonderful, but knowledge because it actually does something is extra special."
Since 2010, the NAI has grown from a local organization at the University of South Florida to a nationwide society with members at more than 200 higher academic institutions. McNally, along with this year's other newly-elected fellows, are invited to attend a Fellows Induction Ceremony in April 2019, held at the Space Center Houston in Houston, TX.
Other Northwestern fellows of the NAI include Teresa Woodruff, PhD, vice chair for research in the Department of Obstetrics and Gynecology and dean of the Graduate School; Samuel Stupp, PhD, director of the Simpson Querrey Institute for BioNanotechnology, the Board of Trustees Professor of Materials Science and Engineering, Chemistry, Medicine and Biomedical Engineering, and of Medicine in the Division of Endocrinology; John Rogers, PhD, the Louis Simpson and Kimberly Querrey Professor of Materials Science and Engineering, Biomedical Engineering in the McCormick School of Engineering and a professor of Neurological Surgery; and Chad Mirkin, PhD, a professor of Chemistry at Weinberg and of Medicine in the Division of Hematology and Oncology and director of the International Institute for Nanotechnology.
McNally, Woodruff, Stupp and Mirkin are also members of the Robert H. Lurie Comprehensive Cancer Center of Northwestern University.