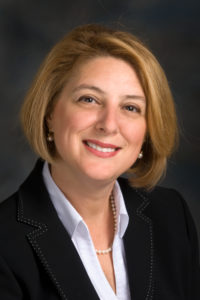 A drug called brentuximab vedotin combined with chemotherapy significantly improved overall survival for patients with a type of T-cell lymphoma, without an increase in adverse events, according to the results of a phase III clinical trial.
The findings, published in The Lancet, led to FDA approval of the drug regimen for newly diagnosed adults.
"This is the first prospective trial in peripheral T-cell lymphoma to show an overall benefit over the standard chemotherapy, CHOP," said co-author Barbara Pro, MD, professor of Medicine in the Division of Hematology and Oncology and a member of the Robert H. Lurie Comprehensive Cancer Center of Northwestern University.
Peripheral T-cell lymphoma is a rare, aggressive form of lymphoma that accounts for about 10 percent of all non-Hodgkin lymphoma cases in the U.S. For decades, most subtypes of T-cell lymphomas have been treated similarly, with a combination chemotherapy known as CHOP (the drugs cyclophosphamide, doxorubicin, vincristine and prednisone). However, outcomes for patients with peripheral T-cell lymphoma have typically been poor, and previous trials attempting to improve upon CHOP have largely failed.
In several forms of peripheral T-cell lymphoma, a protein called CD30 is expressed on cancer cells. Brentuximab vedotin, a drug that targets CD30, had previously been approved for treatment in anaplastic T-cell lymphoma.
The current study was designed to evaluate the efficacy and safety of combining brentuximab vedotin with chemotherapy — cyclophosphamide, doxorubicin and prednisone (CHP) — in patients with peripheral T-cell lymphoma that expresses the CD30 protein.
The international, phase III trial randomized 452 patients with previously untreated CD30-positive peripheral T-cell lymphoma to receive either a combination of brentuximab vedotin and CHP, or the standard CHOP regimen.
The results showed a significant improvement in median progression-free survival in the brentuximab vedotin and CHP group (48 months), compared with the CHOP group (21 months). Treatment with brentuximab vedotin and CHP also led to a significant improvement in overall survival, with a 34 percent lower risk of death.
Furthermore, there appeared to be no increase in toxicity, with similar rates of adverse events between the two treatment groups.
Based on the findings of the trial, in November the FDA expanded approval of brentuximab vedotin for use in combination with chemotherapy as frontline treatment for adult patients with CD30-positive peripheral T-cell lymphoma.
"This combination is a new treatment available for our patients," Pro said.
The study was funded by Seattle Genetics, the manufacturer of brentuximab vedotin and Millennium Pharmaceuticals, a wholly owned subsidiary of Takeda Pharmaceutical Company. The research was also supported in part through the National Institutes of Health National Cancer Institute Cancer Center support grant (P30 CA008748).