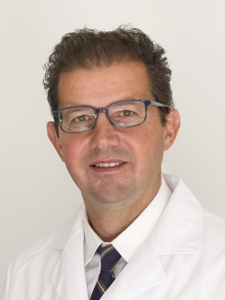 James Carr, MD, '00 '01 GME, the Knight Family Professor of Cardiac Imaging and an internationally recognized leader in the field of cardiac and vascular imaging, has been named chair of the Department of Radiology at Northwestern University Feinberg School of Medicine, effective November 1.
Carr currently serves as vice chair for research in the Department of Radiology. He is also a professor of Medicine in the Division of General Internal Medicine and Geriatrics.
"We are delighted to name James chair of the Department of Radiology," said Eric G. Neilson, MD, vice president for Medical Affairs and Lewis Landsberg Dean. "Over nearly two decades of service at Northwestern, James has distinguished himself as an exemplary clinician-scientist with an unwavering commitment to Feinberg's ideals of scientific discovery, education and clinical care. We have no doubt that his unique skills, energy and vision will propel the Department of Radiology to new heights."
Carr, who joined Northwestern in 1999, is well known for pioneering the use of MRI in the cardiovascular domain, including assessing for the presence and severity of coronary disease, the detection of rejection in cardiac transplant recipients and in qualitative and quantitative programs for measuring cardiac function.
"It truly is an honor and privilege to be given the opportunity to lead our department onward and forward during this exciting time of expansion within the field of radiology," Carr said. "Northwestern, with its outstanding academic programs and excellence in healthcare delivery, is poised to remain at the forefront of medical innovation, and it is my hope that radiology will continue to be central to this effort. I am extremely proud of the outstanding talent within our department and look forward to advancing leading-edge diagnostics and image-guided therapies so that they can be applied clinically for the benefit of our patients."
Carr earned his medical degree from the Royal College of Surgeons in Dublin in 1992 and completed residencies in internal medicine and diagnostic radiology in Ireland. In 1999, Carr began a fellowship in cardiovascular MRI at Northwestern, a program which he now directs. In 2001, he also completed a fellowship in cardiovascular and interventional radiology at Northwestern.
Since then, Carr has served as principal investigator on several National Institutes of Health- and industry-funded grants, with particular research focuses on cardiovascular MRI and magnetic resonance angiography. He has published nearly 250 scientific papers in leading radiology journals.
Carr is currently director of the Division of Cardiovascular Imaging at Northwestern Memorial Hospital, and he serves as co-director of the Advanced Cardiac Imaging working group at the Bluhm Cardiovascular Institute, among other clinical appointments. He also holds a joint appointment at Northwestern University McCormick School of Engineering.
Carr has served on many national and international professional committees and organizations and is the immediate past president of the Society for Magnetic Resonance Angiography. He has been elected to the medical honor society Alpha Omega Alpha and received numerous awards and honors, including the Research Mentor of the Year award in radiology at Feinberg, and the Outstanding Teacher Award from the International Society for Magnetic Resonance in Medicine, among others.
"We had a thorough and robust search for this important leadership role in Northwestern Medicine. Dr. Carr has a global reputation as a leader in the field of cardiac and vascular imaging using magnetic resonance technology. The search committee recognized that he is an extraordinarily gifted teacher, clinician and investigator," said Douglas Vaughan, MD, chair and Irving S. Cutter Professor of Medicine, and chair of the search committee. "We have been fortunate to have him on campus for nearly two decades, and we should all be confident that he will provide the leadership and vision to build on the remarkable success of Dr. Eric Russell as chair of the Department of Radiology."
Carr succeeds Eric Russell, MD, the Drs. Frederick John Bradd and William Kennedy Professor of Radiology, who is stepping down after nearly 24 years as chair of the department.
"We would like to extend our sincere gratitude to Eric for his leadership in the Department of Radiology at Northwestern," Neilson said. "We would also like to thank Doug Vaughan and other members of the search committee for their thorough and excellent work."