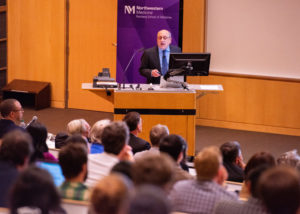 As the 2018 recipient of the Mechthild Esser Nemmers Prize in Medical Science at Northwestern University, Stuart H. Orkin, MD, a pioneering hematologist, delivered a keynote lecture about harnessing genetics to treat blood disorders.
The Nemmers Prize in Medical Science is awarded to a physician-scientist whose body of research exhibits outstanding achievement in their discipline as demonstrated by works of lasting significance.
Orkin is the David G. Nathan Distinguished Professor of Pediatrics at Harvard Medical School, and a Howard Hughes Medical Institute Investigator at Boston Children's Hospital and the Dana-Farber Cancer Institute. Orkin's research has led to a number of breakthrough findings in hematology, including on the development and function of the blood system, the control of stem cells and the molecular basis of inherited blood disorders.
"Dr. Stuart Orkin has devoted his career as a physician-scientist to carrying for patients and discovering new ways to improve the treatment of cancer and blood disorders," said Rex Chisholm, PhD, vice dean for Scientific Affairs and Graduate Education, introducing Orkin. "His landmark discoveries span the fields of hematology, human genetics and stem cell biology."
Jonathan Holloway, PhD, provost of Northwestern University, welcomed faculty, students and staff to the Mechthild Esser Nemmers Prize in Medical Science Lecture, held October 2, and provided an overview of the five Nemmers Prizes.
"At Northwestern, we have an ambition to bring together transformative leaders in their respective fields," Holloway said. "The Nemmers Prizes are the most prominent and prestigious recognition of the university's commitment to research and academic excellence."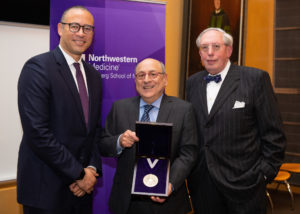 During his lecture, Orkin discussed key discoveries in his laboratory and in the field, including on the control of fetal hemoglobin, mechanisms of the switch from fetal to adult hemoglobin, and the BCL11A gene as a target for genetic therapy of hemoglobinopathies, including sickle cell anemia and beta-thalassemia.
"We may think of sickle cell disease as an old disease that we've taken care of, but we really haven't. There are actually more than 350,000 new births per year of children who are destined for sickle cell disease, and about half of these die each year," Orkin said. "But really the shocking part for those interested in molecular genetics is that despite knowing the genetic basis of sickle cell disease for more than 60 years, there are really no current therapies that rely on this information."
Orkin also discussed promising gene editing approaches for sickle cell anemia and beta-thalassemia currently in clinical trials, as well as future directions for research.
"I don't think the story is over yet," Orkin said. "The goal will be to develop small molecules that can impact the disease in a global way to actually change the face of this really devastating disease, for which molecular biology really has not made major inroads in the past three decades."
Throughout the day, Orkin also toured the Feinberg campus, attended a luncheon with cancer biology students and trainees, and met with faculty and leaders in the medical school.
At the conclusion of the lecture, Eric G. Neilson, MD, vice president for Medical Affairs and Lewis Landsberg Dean, presented Orkin with a medallion in commemoration of receiving the Nemmers Prize.
The Mechthild Esser Nemmers Prize in Medical Science, which carries a $200,000 stipend, was made possible by a generous gift to Northwestern by the late Erwin Esser Nemmers and the late Frederic Esser Nemmers. A jury of distinguished scientists from around the country made the final selection.