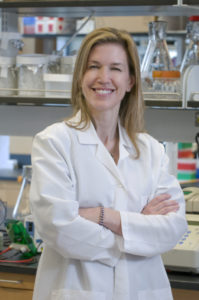 Northwestern University Feinberg School of Medicine has been awarded a prestigious $5.8 million, five-year grant from the National Institute of Diabetes and Digestive and Kidney Diseases to expand translational research into the prevention and treatment of kidney diseases.
The grant will fund the Northwestern University George M. O'Brien Kidney Core Center (NU-GoKIDNEY), bringing together basic and clinical scientists in a collaborative hub dedicated to identifying, testing and translating discoveries into novel therapeutics for patients with kidney diseases.
The center will be directed by Susan Quaggin, MD, chief of Nephrology and Hypertension in the Department of Medicine and the Charles H. Mayo, MD, Professor, along with co-directors Alfred George, Jr., MD, chair and Magerstadt Professor of Pharmacology, and Karl Scheidt, PhD, professor of Chemistry at the Weinberg College of Arts and Sciences and executive director of NewCures.
"This provides an incredible opportunity to catalyze discoveries to help our patients with kidney diseases," said Quaggin, also director of the Feinberg Cardiovascular and Renal Research Institute (FCVRRI). "The center brings together incredible scientists across disciplines on both the Evanston and Chicago campuses with a common goal — to end kidney disease. I am convinced that the unique 'We WILL' culture at Northwestern University made this possible."
The National Institutes of Health first established the George M. O'Brien Centers in 1987 as specialized centers of research into kidney and urologic diseases. There are currently just eight O'Brien Kidney Centers at institutions nationwide.
"The O'Brien Kidney Centers are a select group of influential and innovative national research programs sponsored by the NIH to advance our understanding of kidney diseases. This new award recognizes Feinberg's unique contributions to this field, and cements our reputation as a hub for discovery that will fuel advances for decades to come. Under Sue Quaggin's leadership, I have no doubt this new center will be an engine for accelerating scientific discovery and translating research into future treatments for kidney disease," said Eric G. Neilson, MD, vice president for medical affairs and Lewis Landsberg Dean.
Northwestern's center will unite investigators across three cores:
Pre-Clinical Models Core, led by Guillermo Oliver, PhD, the Thomas D. Spies Professor of Lymphatic Metabolism and director of the Center for Vascular and Developmental Biology at FCVRRI.
Therapeutics Development Core, led by Jason Wertheim, MD, PhD, the Edward G. Elcock Professor of Surgical Research and vice chair for Research in the Department of Surgery.
Clinical and Translational Core, led by Tamara Isakova, MD, MMSc, associate professor of Medicine in the Division of Nephrology and Hypertension and director of the Center for Translational Metabolism and Health of the Institute for Public Health and Medicine (IPHAM).
Beyond the three biomedical cores, NU-GoKIDNEY will also include an Enrichment Program, and a Pilot and Feasibility Component to enhance cross-disciplinary collaborations, attract new investigators into the field and train therapeutics-focused investigators in nephrology.
More information on the new center and a list of upcoming events can be found at www.nephroHUB.org.