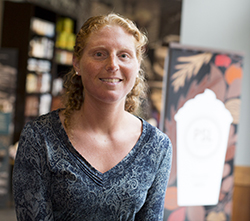 Drinking coffee is associated with a lower risk of death, according to a new study published in JAMA Internal Medicine — including heavy coffee consumption, across various coffee types and among people with genetic differences that affect caffeine metabolism.
"Our study provides further evidence that drinking coffee, regular or decaf, can be part of a healthy diet and offers reassurance to coffee drinkers," said Marilyn Cornelis, PhD, assistant professor of Preventive Medicine in the Division of Nutrition and a co-author of the study.
In the past, research has generally found a link between drinking coffee and a decreased risk of major diseases, including cardiovascular disease and diabetes, as well as overall mortality.
However, concerns remained about the health effects of heavy coffee drinking, particularly in people with common genetic variants that affect caffeine metabolism.
For example, previous research led by Cornelis and others has suggested that variants in CYP1A2 — the gene responsible for most caffeine metabolism — may alter the association of coffee drinking with cardiovascular-related outcomes, with a higher risk for coffee drinkers who metabolize caffeine more slowly.
In the current study, the team of investigators analyzed data from a cohort of a half million people living in the United Kingdom, ranging in age from 38 to 73. The study included data on coffee consumption, as well as genetic variants related to caffeine metabolism.
The investigators found that over 10 years of follow-up, coffee drinking was associated with a significantly lower risk of death, including among people who drank eight or more cups per day.
The benefit was also found in both slow and fast metabolizers of caffeine, as well as across various types of coffee, including ground, instant and decaffeinated coffee. The findings suggest that the caffeine in coffee is not responsible for the association between coffee drinking and a lower mortality rate, although the actual mechanism still remains unclear.
The study adjusted for demographic, health and behavioral factors, including age, sex, smoking status and BMI, among others.
Although the results are observational, the authors note that the findings provide further support that drinking coffee can be a part of a healthy diet.
Read more:
The study, led by investigators at the National Cancer Institute of the National Institutes of Health (NIH), was conducted using the UK Biobank resource (applications 18623 and 21394). The UK Biobank was established by the Wellcome Trust, the Medical Research Council, the UK Department of Health, and the Scottish Government. The UK Biobank has also received funding from the Welsh Assembly Government, the British Heart Foundation, and Diabetes United Kingdom. This work used the computational resources of the NIH's High-Performance Computing Biowulf cluster and was supported by the Intramural Research Program of the NIH; Division of Cancer Epidemiology and Genetics, National Cancer Institute, NIH; and the Department of Health and Human Services.