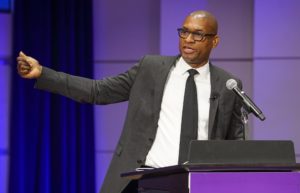 Feinberg capped off its weeklong celebration of Martin Luther King Jr. with a keynote address by Charles Blow, an op-ed columnist at the New York Times, a political commentator on CNN and former presidential visiting professor at Yale University.
Blow, introduced by Clyde Yancy, MD, vice dean for Diversity and Inclusion and chief of Cardiology in the Department of Medicine, touched on the great strides King made during the civil rights movement of the 1960s, but highlighted how true social and economic equality is still far from reality.
"In many ways, the dismantling of legal segregation was the easy part," Blow said, quoting a 1968 speech King gave at Stanford University. "It was the structural racism — not written in the law but in the minds of the many — that is hard to change."
Blow also discussed how pity can contribute to that structural racism and inequality.
"Pity has not dismantled privilege, it supports it. Pity requires a perch because it rolls down," Blow said. "Pity reinforces imbalances of poverty — it can be a violence, operating as a benevolence."
Blow's themes paralleled those of Edernst Noncent, fourth-year medical student and winner of the Northwestern University 2018 MLK Oratorical Contest. Noncent, who was born in Haiti, delivered a speech about his experience as an immigrant in medical school, the last quarter of which was marked by political turbulence.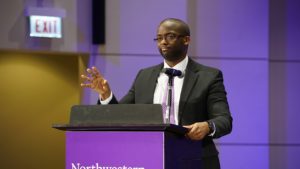 "I struggled to remember, what makes America great, again?" Noncent said.
The problems raised in Blow's speech also were relevant to Noncent's choice of residency: He is currently pursuing a residency in OB-GYN, in part hoping to address inequality in prenatal and maternal care.
"In the community where I'm from, there's no such thing as planning parenthood," Noncent said. "People everywhere should have the same resources we have here at Northwestern."
Blow's talk, sponsored by both Feinberg and the Northwestern Pritzker School of Law, came on the heels of a discussion with Bella Bahhs on mass incarceration and a screening of 70 Acres in Chicago: Cabrini Green, a documentary about the demolition of the Cabrini Green public housing projects.
Yancy is also Magerstadt Professor and a professor of Medicine in the Division of Cardiology and of Medical Social Sciences.