This article first appeared in the Feinberg Research Office's Breakthroughs Newsletter.
For the scientists, physicians and research staff at Northwestern, breakthroughs made in the laboratory are only just the beginning. Feinberg — and the University more broadly — is increasingly focused on ensuring that exciting discoveries made by basic scientists are also soon turned into treatments that impact human health.
"At every level, you want to see that the fundamental research that is being done in the University is having an impact on society," said Jay Walsh, PhD, vice president for Research at Northwestern. "In particular within the biomedical sphere, the goal is to have research translate out of the laboratory and improve the quality of life for patients."
Translational medicine, as the discipline is called, is not a new idea. But the current emphasis on expediting scientific discoveries from bench to bedside has become increasingly important to research institutions, policymakers and healthcare systems across the country. Today, Northwestern is at the forefront of that movement.
"Translational research has always been present. What's different now is the speed with which discoveries are being made in the laboratory and the ability to translate those discoveries into actual treatments, especially at Northwestern," said Lewis Smith, MD, associate vice president for Research as well as a professor of Medicine in the Division of Pulmonary and Critical Care. "There are outstanding people, terrific facilities and a variety of resources here that are instrumental in enabling investigators to do this translation work that is so important to those of us who take care of patients. It's an exciting time."
Bridging the Gap Between Bench and Bedside
From drugs to medical devices, diagnostics and materials, there are more than 100 novel discoveries made across the University that are currently in various stages of translation to the public.
But at Feinberg in particular, two clinical drug trials are now underway that stand out as unique examples of Northwestern's commitment to translational research.
Earlier this year, Northwestern Medicine and the Robert H. Lurie Comprehensive Cancer Center of Northwestern University launched an early-stage clinical trial for a novel spherical nucleic acid drug that targets glioblastoma, a deadly brain cancer with no cure and a median survival of just 15 months.
It is the first time in the history of the University that a drug that began as an initial concept in the lab was carried through pre-clinical research, FDA approval and into clinical trials, all within Northwestern.
(Richard Silverman, PhD, the John Evans Professor of Chemistry in the Weinberg College of Arts and Sciences, discovered a chemical compound, pregabalin, that was developed into the best-selling drug, Lyrica by Pfizer, Inc. Northwestern University had the rights to a portion of the royalties on the sale of the drug. The University ultimately sold most of those rights, realizing a gain of hundreds of millions of dollars in the process.)
"This is very rare, to say the least," Walsh said. "In most cases, you need to go outside the university for the expertise that is needed to do this. In this case, we had the necessary components here, and had the vision and expertise to relatively rapidly move this drug forward."
The drug, NU-0129, is the result of a collaboration between the laboratories of Alexander Stegh, PhD, assistant professor of Neurology in the Division of Neuro-oncology and of Medicine, and Chad Mirkin, PhD, the George B. Rathmann Professor of Chemistry in the Weinberg College of Arts and Sciences, a professor of Medicine in the Division of Hematology and Oncology and director of Northwestern's International Institute for Nanotechnology (IIN).
The drug leverages spherical nucleic acids — a novel drug platform invented by Mirkin that's capable of crossing the blood-brain barrier in animals — to target the gene BCL2L12, which Stegh and colleagues first discovered in 2007 to be overexpressed in glioblastoma.
The phase 0 trial for NU-0129, led by Priya Kumthekar, MD, '11, '12 GME, assistant professor of Neurology in the Division of Neuro-oncology and of Medicine in the Division of Hematology and Oncology, will investigate whether the drug is also capable of reaching brain tumors in humans.
A multidisciplinary team of more than 40 people and 25 different offices across the University was instrumental in submitting the Investigational New Drug (IND) application to the FDA.
"Building the infrastructure to do this is not inconsequential — it's significant resources and time — which is why this is so unusual for a university to do," said Ann Adams, JD, associate vice president of Research, who oversaw the regulatory process. "But we believed that if we were going to improve lives, then we needed to step in and support this phase 0 trial. Because if we didn't, there would be no opportunity to ever see if this could be a potential cure, or at least increase survival rates of people suffering with glioblastoma. And that's really the highest example of how a university can contribute to society."
The Future of Translational Research
With the infrastructure in place after NU-0129, the opportunity opened up to take a similar route with a second discovery at Northwestern.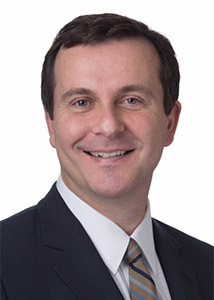 This spring, a novel neural stem cell therapy to treat malignant glioma became only the second time the University has supported and filed an investigational new drug application as a sponsor. The drug, which works with a common cold virus to seek out and attack cancerous cells in the brain, was developed by Maciej (Matt) Lesniak, MD, the Michael J. Marchese Professor and chair of Neurological Surgery. The pre-clinical research began while Lesniak was at the University of Chicago and was completed here at Northwestern. The drug is now in phase I clinical trials at Northwestern Medicine and the Lurie Cancer Center, of which Lesniak, Kumthekar, Mirkin and Stegh are also members.
While the drugs are in very early testing — and there is no guarantee that either brain tumor therapy will be clinically effective — both trials are exciting advancements for research at Northwestern.
"The reality is that this route did not exist before, and we took it as an opportunity to further build out the suite of things that Northwestern can do," said Walsh, adding that translational research in itself is often advantageous to overall discovery. "One of the things about translation is that you learn basic science as well — and that allows you to feed that information back into the research operation and further refine research, which eventually will lead to translation again."
Staff around the University are now assessing putting more infrastructure in place around the pipeline of potential drug discovery projects, in the event that similar opportunities arise to shuttle much-needed therapies from bench to bedside.
"It's overwhelming when you think of the years and years of research that occurred, and all the work that we've done," Adams said. "But to be able to change somebody's life, either now or in the future, for a patient population that does not currently have a lot of options — that's incredible. That's why we are here. It really makes you proud to be part of a world-class research institution."