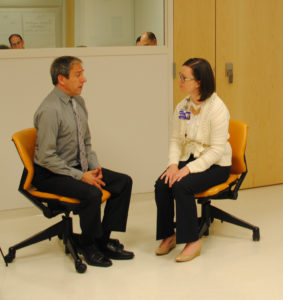 Frontline caregivers practiced breaking bad news to simulated patients at an innovative new multi-site seminar broadcast from Feinberg's Simulation Lab earlier this month. The seminar uses active learning techniques to provide far more skill development than a simple lecture, according to course organizers.
The course was led from Feinberg by Gordon Wood, MD, '07 GME, assistant professor of Medicine in the Division of Hospital Medicine, and simultaneously broadcast to Lake Forest Hospital, KishHealth Foundation, Central DuPage Hospital and Marianjoy Rehabilitation Hospital. Participants included physicians, advanced practice providers, social workers and nurses.
A recent survey of 900 Northwestern Medicine healthcare providers found that education around improving communication skills was a key area for clinical caregivers. The course was not simply a way to make a patient momentarily more comfortable; rather, evidence shows strong associations between a healthcare provider's communications skills and their patients' outcomes. Yet, many caregivers have not received specialized training, even as recent studies have demonstrated the utility of small-group interventions.
"A lot of people used to think you're either born a good communicator or you're not," Wood said. "But, what we're finding is that communication skills are teachable."
Watching a keynote and being lectured at isn't the solution, according to Wood, because communication is a learned skill, and the only way to improve is to put theory into practice. Therefore, the workshop was designed to feature ample time for deliberate practice using simulated patients, trained actors playing the role of patients.
Wood reviewed common disclosure systems, instructed participants how to deliver serious news clearly but compassionately and how to recognize when a patient needs time and space to process the news. Next, participants broke out into small groups to practice with the simulated patients. As Wood led the group at the Feinberg site, expert faculty facilitators and trained actors were at the other four Northwestern Medicine locations, providing the same experience to all participants.
"It felt exactly like how it feels in a real patient scenario, rather than if we were just role playing with another participant in the course," said Margaret Chapman, MD, assistant professor of Medicine in the Division of Hospital Medicine as of September 1.
The authentic experience made it very simple to bring the lessons learned into a real-world setting, according to Chapman.
"As a general internist, people often come to me with undifferentiated symptoms — I'm in the position to make a lot of first diagnoses, some of which are major problems," she said. "The ability to practice with a patient in that high fidelity setting allowed us to take a critical eye to our personal communication skills, break down components of a difficult conversation and assemble what we knew and had just learned into a toolkit."
Nabil Issa, MD, associate professor of Surgery in the Division of Trauma and Critical Care and of Medical Education, completed a prior session of the training and said it provided skills that he's been able to put into practice with his own patients, "I lead difficult conversations and goals of care every time I'm on service, whether in the surgical intensive care unit, acute care surgery or trauma, and this course provided me with totally new tools to rethink and improve my approach."
Multi-site training such as the difficult conversations course establishes a platform for simultaneous learning and sharing protocols across the Northwestern Medicine system, according to course organizers. The value of that collaboration wasn't lost on participants, said Chapman.
"It was occurring at so many different sites with such a wide variety of professional backgrounds. It made for a well-rounded approach to the topic of communication," she said.
Physicians who went through similar training were found to use more empathy and ask more questions to understand the patient's perspective, according to previous research. But the most telling measure of success, according to Wood, was a more informal study where people looked at video of patient interactions both pre-and post-training, without knowing which video was which. The subjects could sort a pre-training video from a post-training video over 90 percent of the time, illustrating the drastic improvement that can come from practicing on simulated patients.
The seminar was also supported by the Department of Innovations at Northwestern Medicine and Feinberg Information Technology.