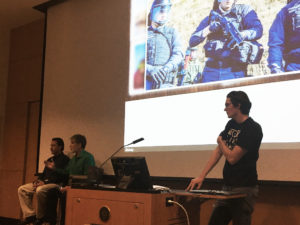 Speakers visited campus last week to discuss the public health aspects of the pipeline construction protests in Standing Rock, North Dakota, as well as indigenous rights and environmental justice.
Sponsored by the Office of Diversity and Inclusion and the Student National Medical Association (SNMA), the speakers aimed to raise awareness and urged Northwestern students and faculty to get involved in the Standing Rock Medic & Healer Council and local events to support the American Indian community.
"SNMA is committed to bringing awareness to current issues that are shaping the United States at large, especially if these issues greatly affect the health and well-being of underrepresented minorities," said Beverly Onyekwuluje, president of Feinberg's SNMA chapter and a second-year medical student. "In particular, Native American rights and access to healthcare is a topic that is rarely discussed compared to other public health concerns. I felt that sponsoring the Standing Rock forum would be a great opportunity to have an open and candid discussion about the impact of the Dakota Access Pipeline on the Sioux Tribe, as well as educate the student community about Native American health."
John Franklin, MD, MSc, '14 MA, associate dean for Minority and Cultural Affairs, said, "The information presented at this event was earnestly presented and powerful. It highlights the important wisdom of human spirit in navigating crucial economic and environmental dilemmas. The consequence of these decisions will affect generations to come."
Northwestern alumnus Michael Knudsen, MPH candidate, presented the work he has been doing at the "water protector" camp in Standing Rock over the past four months and what life is like as a medic at the camp. He has helped treat patients for mace and rubber bullet injuries, but also for other health problems. During his talk, he challenged attendees to become more involved in treating patients at Standing Rock and in public health outreach.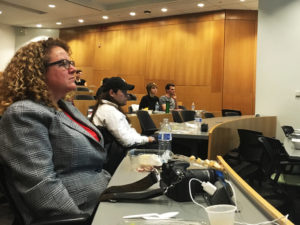 "We are here asking for all of you to stand with us, either to volunteer with us or just learn more about us," Knudsen said.
Al Eastman, a Sicangu Lakota and a researching and teaching ecologist at Chicago's American Indian Center, gave an overview of the history of the Great Sioux Reservation and unceded Indian territories and the Dakota Access Pipeline project.
"This is what it is about defending the sacred," Eastman said. "The sacred lands, the water is sacred, it is our first medicine — we are protecting the safety of water for future generations."
Howard Ehrman, MD, a retired faculty member at University of Illinois at Chicago College of Medicine and School of Public Health, also spoke about the public health importance of protecting water and touched on environmental and climate justice, covering issues such as the safety concerns of oil pipelines and toxic chemical exposure.
Ehrman encouraged audience members to "think outside of the box about ways in which you can show your solidarity and mutual aid to the people at Standing Rock. Whether you are a medical student, on the staff or a faculty member, it really doesn't make a difference. Whether you can actually go to Standing Rock or not, there are plenty of things to do in Chicago."