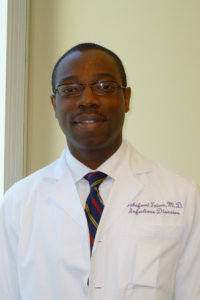 Babafemi Taiwo, MBBS, '06 GME, has been named chief of Infectious Diseases in the Department of Medicine.
"Infectious Diseases have major relevance to the healthcare experience of individual patients on a daily basis and to the health of peoples across the globe. Our goal in the Division of Infectious Diseases is to occupy the frontline of patient-centered discovery in our field and deliver high-quality care and education every day," Taiwo said.
Taiwo started at Northwestern in 2005 as an infectious disease fellow and since then, has established himself as an influential physician, scientist, mentor and leader on campus. Taiwo is also the director for African Research in the Center for Global Health.
"Babafemi is an astute and respected clinician in the department, an exceptionally effective educator, and an accomplished clinical investigator and international leader in antiretroviral therapy and HIV-associated infectious maladies," said Douglas Vaughan, MD, chair of Medicine and Irving S. Cutter Professor of Medicine. "He has some very big shoes to fill, following in the footsteps of Steve Wolinsky, who built a large and extremely successful division, but we are extremely fortunate to have Babefemi take over the leadership of the infectious disease unit. He has the vision and leadership skills to take it to the next level."
Taiwo's research interests include HIV drug resistance and strategies for optimal antiretroviral treatment in resource-limited settings. He received the 2009 John Carey Young Investigator Award for his significant contributions to the advancement of knowledge about HIV and its complications.
Taiwo received his MBBS degree from Nigeria's University of Ibadan College of Medicine. He completed his residency at the University of Massachusetts Berkshire Medical Center.