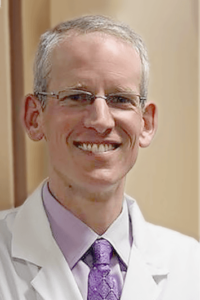 Jeffrey Linder, '97 MD, MPH, will be joining Northwestern as chief of General Internal Medicine and Geriatrics in the Department of Medicine.
"I am thrilled to be returning to Northwestern," Linder said. "It is a tremendous honor to be named the chief of General Internal Medicine and Geriatrics. I am looking forward to the position and collaborating with others to enhance the recognition of the Feinberg School of Medicine and Northwestern Medicine as regional, national and international leaders in medical education, innovation, clinical care and research. My wife and I met at Northwestern as undergrads and we always had a feeling we would return to Chicago."
Linder has spent the past fourteen years on the faculty at Harvard Medical School and as a general internist and primary care clinician-investigator at Brigham and Women's Hospital in Boston. He was also the director of the Brigham and Women's Primary Care Practice Based Research Network. His research focuses on outpatient antibiotic use and the care of ambulatory patients with acute respiratory infections.
"Although much of my research has focused on antibiotic prescribing and care of patients with acute respiratory infections, my overarching goal is to improve primary care," Linder said.
"We are delighted to have Jeff return to Chicago and Northwestern," said Douglas Vaughan, MD, chair of Medicine and Irving S. Cutter Professor of Medicine. "His recruitment followed after an extensive national search, and we could not have found a better fit for General Internal Medicine, and our nascent academic health network. His research is in the area of practice quality improvement, and I am certain that he will have an enormous impact on our primary care network as it evolves. We are extremely grateful to Dr. Gary Martin, vice chair for Faculty Affairs, who served as the interim chief of the Division and led the search committee that identified Dr. Linder."
After receiving his medical degree from Northwestern, Linder completed his residency at University of California, San Francisco School of Medicine and fellowship at Massachusetts General Hospital. He received his MPH from the Harvard T.H. Chan School of Public Health.