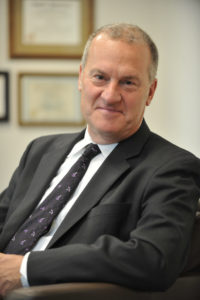 David Cella, PhD, chair of Medical Social Sciences and Ralph Seal Paffenbarger Professor, has received the Gustav O. Lienhard Award from the National Academy of Medicine for his work to measure and apply patient-reported outcomes in healthcare.
Cella was presented with a medal and the $40,000 award at the National Academy of Medicine's annual meeting in Washington, D.C on October 17.
"This is the highest honor I could ever have imagined," said Cella, also director of the Center for Patient-Centered Outcomes in the Institute for Public Health and Medicine. "It recognizes several decades of effort moving the patient's voice to front-page status in the consideration of the value of healthcare interventions. A major downstream benefit of this award is the opportunity to leverage it locally and nationally, explicitly including patients at the center of healthcare delivery, rather than regarding them as passive recipients."
The 31st recipient of the Lienhard Award, Cella is an international expert in the measurement and application of patient-reported outcomes in healthcare settings. Many health systems and facilities use the tools and measures developed by Cella and his collaborators.
"David's ability to inspire change comes from the unswerving commitment he brings to the field of patient-centered outcomes," said Eric Neilson, MD, vice president for Medical Affairs and Lewis Landsberg Dean. "The astonishing scope of his contribution to this field is driven by his commitment and fierce dedication, all with the goal of advancing the voice of patients in healthcare settings."
He developed the Functional Assessment of Chronic Illness Therapy (FACIT) measurement system for outcome evaluation in patients with a range of chronic medical conditions, which emphasizes a patient's perspective on quality of life and health status. Cella is the principal investigator of the statistical coordinating center for the National Institutes of Health (NIH) Roadmap Initiative to build a Patient-Reported Outcome Measurement Information System (PROMIS) and a project to develop item banks for the clinical trials supported by the National Institute of Neurological Disorders and Stroke.
Cella was the first scientist to pioneer the use of item response theory (IRT) in health measurement, opening up new possibilities for accurately gauging patients' symptoms, functioning, and perceptions of health and well-being. Cella also recently received an $11 million grant from the NIH to help scientists across the country study how environmental factors influence health outcomes for children.
Cella earned a bachelor's degree in psychology from Northwestern and a doctorate in clinical psychology from Loyola University of Chicago. He completed fellowships in psychology at the Payne Whitney Psychiatric Clinic and Memorial Sloan-Kettering Cancer Center and then spent 10 years building psychosocial services and research within Rush University's cancer program before coming to Feinberg in 1997.
The Lienhard Award recognizes outstanding national achievement in improving personal healthcare in the United States. Nominees are eligible for consideration without regard to education or profession, and award recipients are selected by a committee of experts convened by the Academy.
The award is funded by an endowment from the Robert Wood Johnson Foundation.