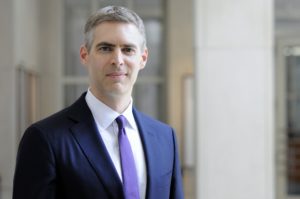 Craig Johnson, MBA, has been appointed chief operating officer at Northwestern University Feinberg School of Medicine.
"I am inspired and humbled by the dedication and drive of our faculty, staff, students and clinicians. I look forward to supporting the administrative infrastructure they need to achieve the vision of Northwestern Medicine," said Johnson, who has been vice dean for Finance and Administration since 2013, treasurer of the McGaw Medical Center of Northwestern University since 2011 and an assistant professor in the Department of Medical Education since 2014. As an educator, he co-directs a course in the medical school curriculum that focuses on healthcare finances.
In his new role, Johnson is responsible for the planning and management of Feinberg's budget, capital expenditures and business operations within the university. He will have administrative oversight of a professional workforce of more than 1,800 employees. He also shares responsibility for integrating the operating budget of a 1,200-physician faculty practice plan with the school of medicine and the common paymaster, and is a member of the leadership team that sets the strategic direction of Feinberg in conjunction with its clinical affiliates and the university. He is responsible for all of Feinberg's business matters.
"With a wealth of experience in finance and administration, Craig now plays a key role in advising the school on critical business functions, negotiating new operating agreements, crafting our long-range financial plan, evaluating faculty hiring plans, codifying new administrative processes and analyzing metrics regarding academic performance," said Eric Neilson, MD, vice president for Medical Affairs and Lewis Landsberg Dean. "At a time when the medical school is experiencing unprecedented growth and achievement, Craig has proven he can work across the medical center representing Feinberg in key relationships that advance our shared and mutually reinforcing interests."
Johnson served the school previously as vice dean for Budget and Finance and executive director of Finance and Budget from 2010-2013. He was also the interim chief financial officer at Northwestern Medical Group at Northwestern Memorial HealthCare from 2013-2015 and, before joining the school in 2010, worked in the Office of Budget and Planning in the central university. Johnson received his MBA in finance from the Kellogg School of Management and undergraduate degree at Northwestern University.