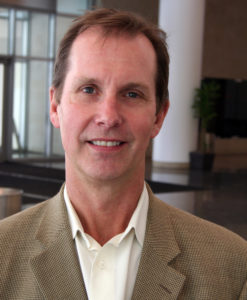 James Surmeier, PhD, Nathan Smith Davis Professor and chair of Physiology, has been awarded the 2016 C. David Marsden Presidential Lecture Award by the International Parkinson and Movement Disorder Society for his contributions to the understanding of the mechanisms underlying Parkinson's disease.
Surmeier was presented the award at the international meeting held in Berlin, Germany, on June 20.
"This award not only puts an international spotlight on our work, it constitutes an endorsement by the oldest and biggest community devoted to the study of Parkinson's disease," Surmeier said.
Dr. Surmeier's group identified unusual activity of a specific type of calcium channel as a potential cause of neuronal degeneration in Parkinson's disease. This discovery was corroborated by epidemiological studies and has now led to a National Institutes of Health Phase III clinical trial of the drug isradipine as a potential disease-modifying therapy in early stage Parkinson's disease.
Before receiving the award, he delivered a plenary lecture, "From Causes of Selective Neuronal Vulnerability in Parkinson's Disease to a Phase III Clinical Trial," where he discussed the scientific rationale behind the isradipine clinical trial.
The annual award is named after the British neurologist C. David Marsden, widely acclaimed as the foremost movement disorders neurologist in the last century.