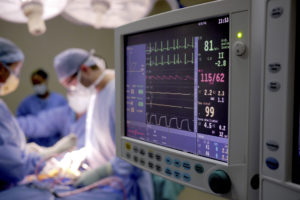 High-risk and inoperable patients with severe aortic stenosis had very low rates of complications and mortality after undergoing a minimally invasive procedure to repair their condition using a new generation replacement valve, according to research published in the journal Circulation.
Open-heart surgery was once the most effective way to treat aortic stenosis, a narrowing of the aortic valve that limits blood flow to the heart. But recently, transcatheter aortic valve replacement (TAVR), which involves implanting a collapsible valve into the heart through a catheter, has become a promising and less invasive alternative to surgery. The new study assessed the latest version of a valve called SAPIEN 3 that is used in the procedure.
In the study, one-year survival for patients that received SAPIEN 3 was 85 percent. Older TAVR systems have had survival rates of 69 to 76 percent for the same types of patients in previous research.
"With this new data, we believe that TAVR using the current generation device is the preferred choice for older, sicker patients, over surgical aortic valve replacement," said S. Chris Malaisrie, MD, associate professor of Surgery in the Division of Cardiac Surgery, who led the study's Northwestern site. "With earlier generation devices, I think it was a toss up, but now TAVR is definitely the preferred choice. These findings will likely lead to some guideline changes."
The research included 583 patients who had a high risk of surgical mortality or were considered inoperable because of comorbidities, all treated with SAPIEN 3 throughout 29 sites in the United States. In previously published research, Malaisrie and colleagues assessed the same replacement valve in intermediate-risk patients, with similarly positive results. Next, they plan to test the technology in low-risk patients. Malaisrie just enrolled his first patient for that study.
"We're always looking for the most effective treatments for patients that carry the least amount of risks," Malaisrie said. "We know that as technology improves, the safety and efficacy of all these devices that we use should also improve."
This study was funded by Edwards Lifesciences, the manufacturer of the SAPIEN 3 transcatheter valve. Malaisrie did not receive compensation from the company for his work in the trial.