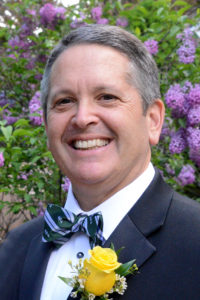 Nicholas Volpe, MD, chair of Ophthalmology and George and Edwina Tarry Professor of Ophthalmology, was recently accepted into the American Ophthalmological Society (AOS) for his achievements in ophthalmic science and clinical practice.
"I am honored to be accepted into their society," Volpe said, who was welcomed into the society at its annual meeting in May. "The members are thought leaders in ophthalmology, and it's particularly important to me as a both a career milestone and because it provides me with the opportunity to learn from and interact on a regular basis with the great minds of modern ophthalmology."
Founded more than 150 years ago during the Civil War, the AOS was the first medical specialty society in the US and promotes excellence in patient care, education and research.
In addition to letters of nomination, candidates present a thesis project to be accepted for membership. Volpe along with coauthors Joseph Simonett, '16 MD, Amani Fawzi, MD, associate professor of Ophthalmology and Teepu Siddique, MD, professor of Neurology presented his thesis on the clinical and histopathologic findings in the eyes of patients with amyotrophic lateral sclerosis (ALS), and in mouse models of ALS. ALS is a progressive neurodegenerative disease that affects nerve cells in the brain and the spinal cord.
"Nicholas Volpe has been a leader in clinical care, resident and medical student education and teaching," said Lee Jampol, MD, Louis Feinberg, MD, Professor of Ophthalmology and member of AOS. "His many talents also include research, both clinical and laboratory. He has been a strong leader of the department and his acceptance by the AOS is well-earned."
Marilyn Mets, MD, Lillian Sherman Cowen Reiger and Harold L.S. Cowen Research Professorship of Pediatric Ophthalmology, is also a member and past president of the AOS.