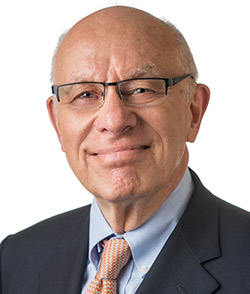 Herbert Meltzer, MD, professor of Psychiatry and Behavioral Sciences, Pharmacology and Physiology, has been chosen to receive a Pioneer in Psychopharmacology Award from the International College of Neuropsychopharmacology.
The honor is given to individuals who have made major contributions to the field of psychopharmacology, a multidisciplinary branch of psychology and neuroscience that studies how drugs affect the mind and behavior.
"Herb Meltzer has changed the way in which we treat patients with psychotic disorders and has brought hope and better outcomes to countless patients and their families. He is respected around the world for his many seminal contributions to the neuroscience literature," said John Csernansky, MD, the Lizzie Gilman Professor of Psychiatry and Behavioral Sciences, and chair of the department. "Prior recipients of the CINP Pioneer Award have included several winners of the Nobel Prize in Medicine and Lasker Award."
Meltzer's numerous accomplishments, documented in more than 1,000 peer-reviewed publications, include providing evidence in 1988 that clozapine was more effective than any other antipsychotic drug. His research was also the first to establish the importance of serotonin in the treatment of psychosis, a concept that has become the basis for drug development to help millions of patients in the United States with schizophrenia, bipolar disorder and related disorders. His work has also demonstrated that clozapine reduces the risk of suicide and improves cognitive impairment for some patients with schizophrenia.
"I am delighted to receive this award," said Meltzer, who joined Feinberg's faculty in 2011. "Neuropsychopharmacology is a young field, and I am proud of my contributions to it."
Meltzer also initiated research on the drug pimavanserin, which selectively targets hallucinogenic serotonin receptors to treat psychosis in Parkinson's disease, schizophrenia and Alzheimer's disease. It is the first antipsychotic drug approved to treat psychosis without directly targeting dopamine receptors. His current work focuses on identifying genetic biomarkers for antipsychotic drug response and predictors of suicide attempts. Meltzer has also mentored post-doctoral fellows who have gone on to become prominent researchers in psychopharmacology.
He and two other recipients will be presented with the biennial award this July at the CINP World Congress in Seoul, Republic of Korea.
"The CINP has been a very meaningful part of my life, enabling me to visit most parts of the world to attend its congresses and to carry out official business, including 'opening' mainland China to CINP membership," said Meltzer, who served as the CINP's president from 2002 to 2004. "I have not missed a CINP meeting in 50 years."