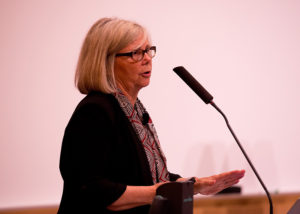 Joan Brugge, PhD, director of the Ludwig Center at Harvard Medical School, was given the Annual Distinguished Women in Medicine and Science Award by Feinberg's Women Faculty Organization (WFO) on April 28. She also presented the organization's annual lecture.
The award and lecture were a culmination of events held throughout the day, including a luncheon talk on her career successes and obstacles she faced, and individual mentoring sessions with junior faculty.
"It's an honor to be chosen," Brugge said. "Days like today, when we come together and talk about issues for women and discuss gender bias – the issues specific to women faculty, postdocs and students – are really important, and it's important to have female role models."
Brugge's talk, "Modeling Morphogenesis, Tumorigenesis, and Drug Resistance in 3-Dimensions," guided the audience through research her team has done over the past 10 years, beginning when she returned to academia after founding a biotech company.
Her lab investigates the cellular pathways involved in the morphogenesis of epithelial tissues and their progression into tumors. Her talk covered her studies relating to breast cancer and her methods of reconstituting breast epithelial cell cultures to organize them into 3-D structures that resemble the hollow, spherical glandular units of the breast. She explained how this culture system allows them to model events that control the growth and survival of normal epithelial cells, in addition to the changes associated with tumor progression and the strategies they are developing to overcome drug resistance in cells.
Linda Ehrlich-Jones, PhD, RN, chair of the WFO steering committee, introduced Brugge and welcomed guests. Ehrlich-Jones said that after reviewing numerous nominations, she and the committee chose Brugge for her scientific achievements and overall success as a woman in science.
Maria Joh, a first-year medical student, said she found the lecture empowering and interesting.
"I really enjoyed listening to her talk about pathway-oriented biology and state-of-the-art research. Even though she studies basic science, I can see the potential it can have in the clinic, which is inspiring," Joh said.
A graduate of Northwestern University, Brugge received her PhD from Baylor College of Medicine. During her postdoctoral training at the University of Colorado, she isolated the protein that codes for the viral and cellular forms of the SRC gene. Brugge joined the faculty at Harvard Medical School in 1997. She is a Howard Hughes Medical Institute investigator and has been elected to the American Academy of Arts and Sciences, the National Academy of Sciences and the Institute of Medicine.
The Distinguished Women in Medicine and Science Lecture at Feinberg is an annual medical school tradition awarded in alternating fashion to faculty at Northwestern and across the nation. It was started in memory of Carolyn Brent, MD, who founded the WFO in 1997.