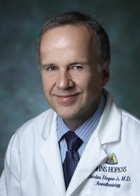 Charles Hogue, Jr., MD, a renowned specialist in cardiovascular and thoracic anesthesiology, has been named chair of the Departments of Anesthesiology at Northwestern University Feinberg School of Medicine and Northwestern Memorial Healthcare, effective July 1.
Dr. Hogue currently serves as chief of the Division of Adult Anesthesia in the Department of Anesthesiology and Critical Care Medicine at The Johns Hopkins University School of Medicine.
"Throughout his career, Chuck has made it his life work to improve outcomes for patients undergoing cardiovascular surgery, as is evident in his impressive body of research," said Eric G. Neilson, MD, vice president for Medical Affairs and Lewis Landsberg Dean. "We are thrilled to welcome him to Northwestern Medicine to lead our Department of Anesthesiology."
Dr. Hogue completed an internal medicine internship in 1987 at the Jewish Hospital of St. Louis/Washington University School of Medicine and an anesthesiology residency at Massachusetts General Hospital/Harvard Medical School. He was a clinical fellow at Harvard Medical School and a research fellow at the Shriners Burn Institute and then served on the Washington University faculty from 1990 to 2004 before joining the Johns Hopkins faculty in 2005. He earned his medical degree in 1986 at the University of Illinois College of Medicine in Chicago.
"I am very excited to have this opportunity to join the leadership of Northwestern University Feinberg School of Medicine and Northwestern Memorial HealthCare," Dr. Hogue said. "I look forward to leveraging the extensive talents of Northwestern Medicine's faculty, administration and healthcare providers to continue to grow its national and international reputation as a leader in medical education, research and superb family- and patient-centered care."
Dr. Hogue's research focuses on methods to reduce the risk of neurological injury from cardiac surgery, with a particular emphasis on brain and kidney injury. He is currently principal investigator of a study funded by the National Heart, Lung, and Blood Institute exploring strategies to noninvasively monitor cerebral blood flow autoregulation during cardiac surgery to reduce complications. He has published more than 150 peer-reviewed journal articles and book chapters and co-authored three books.
In addition to serving as a frequent reviewer for several scientific journals, Dr. Hogue is associate editor-in-chief of Anesthesia & Analgesia. He is a member of the Alpha Omega Alpha Medical Honor Society, the American Medical Association and the American Society of Anesthesiologists.
Dr. Hogue replaces M. Christine Stock, '81 MD, James E. Eckenhoff Professor, who stepped down last August as chair of the department after 15 years. Howard Chrisman, MD, MBA, professor of Radiology and Surgery, has led the department in the interim.
"We would like to thank Dr. Howard Chrisman for his excellent interim leadership during this time of transition. We would also like to extend our gratitude to Dr. Patrick McCarthy and the search committee for their outstanding work in identifying new leadership for the faculty of the Department of Anesthesiology," Dr. Neilson said.