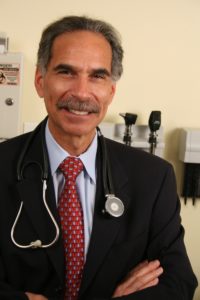 While weight loss is recommended for patients diagnosed with type 2 diabetes, lifestyle interventions alone can often be challenging because of obesity-related hormonal, metabolic and neuronal adaptations that favor weight gain.
A recent study investigated whether a higher dose of liraglutide, a drug used to treat type 2 diabetes, may lead to greater weight loss. The study, co-authored by Robert Kushner, MD, '80 '82 GME, professor of Medicine in the Division of Endocrinology, found encouraging results.
"Using a higher dose of liraglutide leads to significant weight loss, improvement in diabetes control and other metabolic parameters, and it improves the quality of life among individuals with type 2 diabetes and obesity," said Dr. Kushner, who was principle investigator of the Northwestern site.
The 56-week randomized trial, published in the Journal of the American Medical Association (JAMA), was conducted at 126 sites in nine countries from 2011-2013. A total of 846 adult patients who were overweight or obese and diagnosed with diabetes were enrolled in the study and either received 3 milligrams of liraglutide, 1.8 milligrams or a placebo. Liraglutide binds to the same receptors as the metabolic hormone GLP-1 and stimulates insulin secretion.
The scientists found that weight loss was significantly greater at all dosages of liraglutide (3.0 mg and 1.8 mg) versus placebo. They also found significant reductions in waist circumference, body mass index, blood pressure and improved glycemic control. While the authors did not identify any new safety concerns, they suggested further studies are needed to evaluate longer-term efficacy and safety.
Next, Dr. Kushner said he is working on "implementation of improved obesity care among primary care providers with a refocus on the underlying problem – obesity, rather than simply focusing on improving blood sugar."
Liraglutide is a proprietary compound of Novo Nordisk, the pharmaceutical company that funded the study. Dr. Kushner also reported serving on advisory boards for Novo Nordisk.