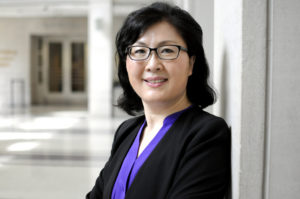 Lifang Hou, MD, PhD, chief of Cancer Epidemiology and Prevention in the Department of Preventive Medicine, has been named a member of a Blue Ribbon Panel of scientific experts, cancer leaders and patient advocates that will inform the scientific direction and goals at the National Cancer Institute (NCI) of Vice President Joe Biden's National Cancer Moonshot Initiative to accelerate cancer research.
As a member of the panel, she will serve as a part of a working group of the presidentially appointed National Cancer Advisory Board (NCAB), which will make recommendations to the NCI. NCI will also seek guidance from thought-leaders throughout the cancer community.
"It is a great honor to be able to participate in the vice president's National Cancer Moonshot Initiative," said Dr. Hou, who is also a member of the Robert H. Lurie Comprehensive Cancer Center of Northwestern University. "I am confident that the initiative will enable cancer researchers to leverage novel technologies, exciting scientific findings, existing infrastructures and interdisciplinary expertise and experience from the entire scientific community to move our current cancer research, treatment and preventive efforts to ever-higher levels, including addressing the persistent disparities in cancer screening, early detection, prevention and therapies."
Over the next several months, the panel will consider how to advance the development of cancer vaccines, approaches to early detection, advances in immunotherapy and combination therapies, single-cell genomic profiling of cancer cells and cells in the tumor microenvironment, enhanced data sharing and new approaches to the treatment of pediatric cancers. Dr. Hou will join 27 other members on the panel whose expertise represent a spectrum of scientific and clinical areas, in addition to individuals from cancer advocacy groups and pharmaceutical and biotechnology companies.
"This is an exciting initiative," said Leonidas Platanias, MD, PhD, director of the Lurie Cancer Center. "Lifang's insights and expertise will be a tremendous addition to the panel's important efforts."
Dr. Hou's research focuses on identifying molecular biomarkers that may predict cancer risk, progression and mortality in various populations, thus providing potential tools for early cancer detection and prevention. Dr. Hou has published more than 150 peer-reviewed scientific papers including two recent reports on blood-based biomarkers that have the potential to be used for cancer early detection. Dr. Hou heads the population epigenetics laboratory with an overarching research focus on understanding the biological mechanisms linking environmental and lifestyle factors with subclinical or clinical disease development.
The NCAB will advise the NCI director based on its consideration of the Blue Ribbon Panel's recommendations, expected to be delivered later this summer.
The Lurie Cancer Center is one of 45 Comprehensive Cancer Centers as designated by NCI and is one of two NCI-designated Comprehensive Cancer Centers in Illinois.