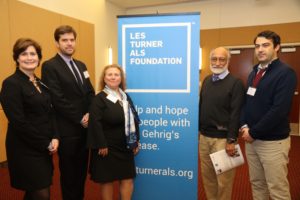 More than 200 attendees at the Fifth Annual Les Turner Symposium on ALS and NeuroRepair helped celebrate the establishment of the Les Turner ALS Research and Patient Center at Northwestern Medicine with presentations, lectures and a poster session on November 16.
The center, launched with the support of the Les Turner ALS Foundation, houses the Les Turner ALS Research Laboratories, the Lois Insolia ALS Clinic and other activities at Northwestern to accelerate research and advance patient care in ALS (amyotrophic lateral sclerosis), also known as Lou Gehrig's disease. ALS is a progressive, neuromuscular disorder in which the degeneration of nerves leads to muscle weakness and impaired speaking, swallowing and breathing, eventually causing paralysis and death.
"Under the umbrella of the center, clinical care and research can now collaboratively reach for the same singular goal – to strive for a future without ALS," said Andrea Pauls Backman, executive director of the Les Turner ALS Foundation.
The foundation, a partner with Northwestern for 35 years, has provided support that has led to significant advances from the laboratories of Teepu Siddique, MD, professor of Neurology, Hande Ozdinler, PhD, assistant professor of Neurology, and most recently Evangelos Kiskinis, PhD, assistant professor of Neurology.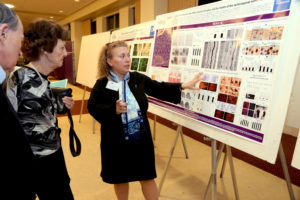 At the symposium, these three faculty presented on their various research projects along with clinical faculty members Robert Sufit, MD, professor of Neurology and Surgery in the Division of Organ Transplantation, Senda Ajroud-Driss, MD, associate professor of Neurology, and Lisa Wolfe, MD, associate professor of Medicine in the Division of Pulmonary and Critical Care and Neurology.
Other highlights of the day included data blitz talks given by Chicago-area scientists and a keynote lecture presented by Kevin Eggan, PhD, professor of Stem Cell and Regenerative Biology at Harvard University.
A pioneer in stem cell biology, Eggan spoke on investigating the mechanisms that lead to neuronal degeneration in ALS and identifying ALS therapeutics.
"We should seek to understand the electrical changes in the brain of ALS patients: there may be some clue in those changes that may teach us a bit about how we can slow down this terrible disease," said Eggan. "I would put these advances or efforts, as unresolved as they are, alongside the other very exciting areas of progress in ALS biology, most notably our advances in the understanding of genetics that underlie ALS."
Kiskinis, a former postdoctoral fellow in Eggan's laboratory said, "One thing that is inspiring to me about Kevin is that he is relentless in the pursuit of his goals. He will not stop until he get the answers to the questions he wants to address, no matter how big or complex the problem is. I think as a young scientist, it is inspiring to be around that."
The need for collaboration among scientists to find treatments for ALS was a theme throughout the symposium.
"ALS is a complex disease. We all have expertise in different areas of ALS and as we join our forces under the umbrella of the Les Turner ALS Center, we will move closer to a cure," Ozdinler said. "Symposiums like this give us the momentum to work together and showcase our determination and will to succeed."