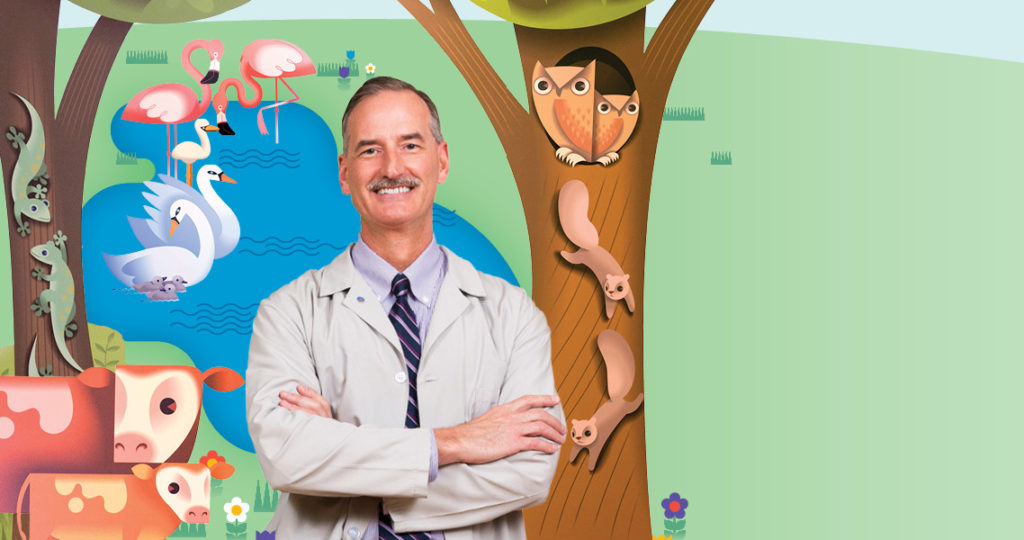 (This story originally appeared in the Feinberg Research Office's monthly Breakthroughs newsletter.)
Few things please Thomas Shanley, MD, more than the energetic buzz generated by smart people working together to heal sick children. In his new leadership role at Northwestern University Feinberg School of Medicine and the Ann & Robert H. Lurie Children's Hospital of Chicago, Dr. Shanley sees an opportunity to elevate downtown Chicago's reputation as a innovative hub of pediatric medical research and clinical care, powered by the energy, passion and intellect of his new colleagues.
"Now that Lurie Children's is down the street from Feinberg, the physical distance between the critical mass of Feinberg scientists and the folks at Lurie is gone," Dr. Shanley said. "We have an opportunity to expand our partnership with integration and collaboration that wasn't as easy to achieve in the past, when the hospital was on the north side of the city."
During his first few months as chair of Pediatrics at Feinberg and the Founders' Board Centennial Professor and chairman of the Department of Pediatrics at Lurie Children's, Dr. Shanley is taking stock of the people, programs and research activities at the two institutions and making plans for the future.
"One of my desires is to build the research component and many of the divisional activities to contribute to a better understanding of disease processes, identify therapeutic targets and try to make a bigger impact on areas we are studying," he said. "The opportunity to bring folks who can meet that need in various subspecialty areas is going to be a key component of my recruitment responsibilities."
Dr. Shanley also will serve as chief research officer of the Stanley Manne Children's Research Institute and president of the hospital's Pediatric Faculty Foundation, Inc. The Manne Research Institute will join Lurie Children's and Feinberg downtown, inside Northwestern's Louis A. Simpson and Kimberly K. Querrey Biomedical Research Center. This new building is under construction and scheduled to open late 2019.
Moving the Manne Research Institute to Northwestern's Chicago campus is an opportunity to align more scientists who study the same areas, but may not currently work together, Dr. Shanley said.
"They may not be from the same department or the same institution, but what unites them is the theme of the science that they are dedicated to studying," Dr. Shanley said. "This approach is part of a model I have seen be successful at the places I have been in the past. It can help optimize the productivity of investigators and thus impact medicine."
Dr. Shanley comes from the University of Michigan Medical School, where he served as associate dean for clinical and translational research, professor of pediatrics and communicable diseases and director of the Michigan Institute for Clinical and Health Research. Before that he spent seven years on the faculty at the Children's Hospital Medical Center in Cincinnati. He received his medical degree from University of Chicago Pritzker School of Medicine.
As a physician-scientist, Dr. Shanley is as comfortable in a pediatric intensive care unit as he is a laboratory. He specializes in the treatment of children with conditions such as hypoxemic respiratory failure from lung disease and septic shock triggered by infection. His research has appeared in more than 100 peer-reviewed publications and he plans to continue research in the area of microfluidic diagnostics at Feinberg and Lurie Children's as well as provide care to children in Lurie Children's ICU.
At Michigan, Dr. Shanley was part of a team that developed a small chip- and microfluidic-based device that can be used at the bedside of children with infections to measure a variety of biomarkers circulating in their blood.
Technology currently used for this sort of testing often requires large quantities of blood and hours or days of testing in a laboratory. This experimental device uses less than a drop of blood and displays results in near-real time. It could help doctors make more effective decisions about treatment options in time-sensitive situations.
"We are hoping to transport that platform here, so we can be a second site to try to validate this approach and this technology," Dr. Shanley said.
The device has already identified certain circulating biomarkers in blood that can predict the outcomes of children sick with infections. Shanley said scientists are now trying to validate the use of this device in adult patients with infections, too.
Dr. Shanley emphasizes that there is value in overlapping pediatric and adult research and care, and he sees exciting opportunities for Lurie Children's and Feinberg investigators to make connections and share knowledge that will advance medicine and help people of all ages.
"By connecting our pediatric affiliated investigators with more adult-based investigators, we can really tap the strengths of each of them," he said. "This can be applied to just disease specific entities and it can be applied across lifespan types of research, too."
From the lab to the bedside, Dr. Shanley said the iterative process of discovery along the translational spectrum is important to embrace. He plans to use this approach to help research programs at Feinberg and Lurie Children's become as comprehensive as possible and improve the outcomes of sick children for years to come.