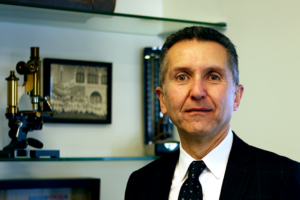 Serdar Bulun, MD, chair of the Department of Obstetrics and Gynecology, has been elected to the National Academy of Medicine (NAM), formerly known as the Institute of Medicine.
The NAM was established in 1970 by the National Academy of Sciences to honor both professional achievement and commitment to volunteer service, and serves as a national resource and source of expertise on issues related to health, medicine, biomedical science and related policy.
"I feel honored and thrilled about being elected to this prestigious organization," said Dr. Bulun, the John J. Sciarra Professor in Obstetrics and Gynecology. "Joining the NAM will provide me a rare and valuable opportunity to be able to make recommendations on national clinical care and research policies concerning all aspects of women's health. As a new member, I look forward to working with my colleagues in NAM committees to advance awareness of understudied women's disorders and to continue to be a passionate champion of women's health."
Dr. Bulun has had a global impact on medicine through his research on the genetics and steroid biology of common gynecologic disorders endometriosis and uterine fibroids, conditions that currently impact more than 15 million women in the United States. He discovered the epigenetic basis of endometriosis and introduced aromatase inhibitors as a novel class of drugs to effectively treat it. He has also contributed significantly to the systems biology of hormone-responsive disorders of the breast, including cancer.
"Serdar is a groundbreaking scientist in the field of gynecology with an impressive track record of discovery and publication," said Eric G. Neilson, MD, vice president for medical affairs and Lewis Landsberg Dean. "His election to the National Academy of Medicine is yet another sign of the growing recognition of Northwestern Medicine as one of the nation's leading academic health systems."
Dr. Bulun currently leads Northwestern's Uterine Leiomyoma Research Center Program, which aims to identify novel targets for treating uterine fibroids. Widely recognized for pioneering molecular medicine in the field of gynecology, he has published more than 180 scientific articles including reports in top-ranked journals such as the New England Journal Medicine, Nature Medicine and Proceedings of the National Academy of Sciences, as well as several specialty journals in reproductive endocrinology, and is the editor-in-chief of Seminars in Reproductive Medicine.
Dr. Bulun is also a member of the Robert H. Lurie Comprehensive Cancer Center of Northwestern University, the American Society for Clinical Investigation and the Association of American Physicians, and he served as the 2015 president for the Society for Reproductive Investigation. His work has been honored with notable awards including the National Institutes of Health MERIT award and the American Society of Reproductive Medicine Distinguished Researcher Award.