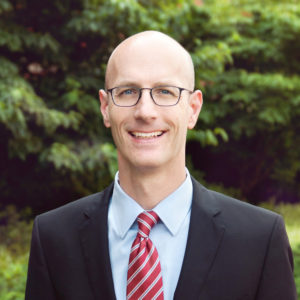 Edward (Ted) M. Schaeffer, MD, PhD, an internationally recognized physician-scientist with deep expertise in urologic oncology, has been named chair of the departments of Urology at Northwestern University Feinberg School of Medicine and Northwestern Memorial Hospital, effective December 1.
Dr. Schaeffer is currently the R. Christian B. Evensen Professor of Urology, Oncology and Pathology at the Johns Hopkins School of Medicine. At Johns Hopkins Medicine, he is director of the prostate cancer program, director of international urology and co-director of the Prostate Cancer Multidisciplinary Clinic as well as a member of the James Buchanan Brady Urological Institute and the Sidney Kimmel Comprehensive Cancer Center. Dr. Schaeffer is also a respected clinician with expertise in open, laparoscopic and robotic treatment of urologic malignancies, and founder and chief medical officer of the Prostate Cancer Foundation of Norway.
"We are delighted to welcome Ted to Northwestern Medicine. He is at the forefront of the field of urology, with an outstanding background treating patients with aggressive prostate cancers and investigating the molecular mechanisms of the disease," said Eric G. Neilson, MD, vice president for Medical Affairs and Lewis Landsberg Dean. "I have no doubt that his exceptional leadership will bring the Department of Urology to new heights."
After earning medical and doctoral degrees at the University of Chicago Pritzker School of Medicine, Dr. Schaeffer completed an internship in surgery, a fellowship in pathology and a residency in urology at Johns Hopkins Medicine. He has been a member of the Johns Hopkins faculty since 2007.
"Dr. Schaeffer will make an outstanding addition to Northwestern Medicine and continue to elevate our urology program's recognition as a national leader for providing innovative treatments and compassionate care," said Dean M. Harrison, president and CEO of Northwestern Memorial HealthCare.
Dr. Schaeffer's groundbreaking prostate research, featured in more than 175 publications, emphasizes at-risk populations, diagnosis, treatment outcomes and the molecular biology of lethal prostate cancer. His lab, which is funded by the National Institutes of Health (NIH), the Howard Hughes Medical Institute, the U.S. Department of Defense and the Prostate Cancer Foundation, specifically focuses on the molecular biology of locally aggressive prostate cancers and the impact of race on the biology of prostate cancer. His laboratory also studies novel pathways of prostate and bladder carcinogenesis through utilization of experimental embryology and systems of epithelial injury repair.
"I am very excited to join the Northwestern team. The medical school, hospital and Department of Urology all have outstanding reputations," Dr. Schaeffer said. "The energy and enthusiastic drive to be the 'best of the best' is palpable at Northwestern."
"Northwestern Urology is one of the oldest urology training programs in the country and through the efforts of its four prior chairmen has made many seminal contributions to the field," he said. "I am honored to have been chosen to lead this department and look forward to continued growth, discovery and innovation."
Dr. Schaeffer's discoveries have greatly advanced the basic scientific understanding of prostate cancer and clinical care pathways. In recent work, he demonstrated a more aggressive biologic subset of cancers in African American men. His team's discoveries include distinctive anatomic locations of tumors in African American patients, molecular expression signatures of cancers in African American patients that demonstrate decreased reliance on androgen signaling, novel solid tumor gene fusions and divergent biomarker panels signaling aggressive disease. Dr. Schaeffer's work on this topic was acknowledged by the American Society of Clinical Oncology as a Clinical Cancer Advance of 2013.
He has also received the American Urological Association's Astellas "Rising Star" award and the Howard Hughes Clinician-Scientist Early Careers Award. He participates in the scientific community through appointments on the editorial boards of the Journal of Urology and Case Reports in Urology, as well as through many peer review activities, advisory committees and professional societies.
"We would like to extend our gratitude to the search committee for their excellent work in identifying new leadership for the faculty of the Department of Urology," Dr. Neilson said.