With new funding, the Northwestern University Clinical and Translational Sciences Institute will focus on promoting clinical trials

Northwestern University has received a four-year, $27.2 million grant from the National Institutes of Health (NIH) to renew the Northwestern University Clinical and Translational Sciences (NUCATS) Institute.
The new Clinical and Translational Science Award (CTSA), funded by the NIH's National Center for Advancing Translational Sciences (NCATS), will prioritize making research more accessible to patients by involving them in clinical trials.
"It takes too long for new scientific discoveries to get to places where they can make a meaningful impact on patients," said Donald Lloyd-Jones, MD, ScM, senior associate dean for Clinical and Translational Research and director of NUCATS. "We're trying to break down major hurdles in the middle of the translational pipeline – where we conduct clinical trials with real people to see whether a new medical device or drug actually works in the real world."
Learning from every clinical experience
Over the next four years, NUCATS will focus on engaging community stakeholders to make sure all patients are involved in research, including pediatric patients, patients with disabilities, older adults and patients from underrepresented groups.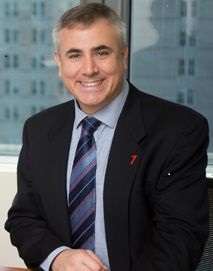 For example, NUCATS and Chicago's two other CTSAs at the University of Illinois and the University of Chicago will partner to embed a special program manager at the Chicago Department of Public Health. This person will ensure that research efforts meet the needs and desires of specific communities across Chicago, including populations traditionally underrepresented in clinical research, city agencies, faith-based organizations and industry partners.
Resources for investigators
The award also enables new programs to empower the scientists that drive all of this research.
"Investigators already leverage the CTSA infrastructure to make them more competitive for federal funding," said Rex Chisholm, PhD, vice dean of Scientific Affairs and Graduate Education. "In its next phase, NUCATS will strengthen its available resources, providing additional training initiatives, practical tools for multidisciplinary team science and a culture of continuous improvement."
NUCATS-funded initiatives include:
A new Multidisciplinary Clinical and Translational Research Pre-doctoral Training (TL1) Program will focus on child and adolescent health, training graduate students from underrepresented minorities, doctoral students and post-doctoral fellows to work in this critically important area
New diversity efforts, including an online testing module that examines for implicit bias and qualitative research to develop strategies for overcoming barriers that impede the participation of underrepresented racial and ethnic minorities, persons with disabilities and women in the workforce and in clinical trials
Novel real-time, data-driven systems that assess research impact and promote effective team science, including a new team recommender system for assembling multidisciplinary teams
A continuing Multidisciplinary Mentored Career Development (KL2) Program that offers salary support, protected time for research, peer mentoring and career guidance
"We have resources for the entire pipeline of translational research, whether you're a basic scientist not sure how to take discoveries to the next step towards treatments in humans, whether you're looking for help getting started with a clinical trial and finding participants, or whether you're trying to actually implement the knowledge gained from a clinical trial into the clinic or community," Dr. Lloyd-Jones said.
NUCATS launched in 2007 as a hub to support and accelerate research across six schools at Northwestern University and three clinical partners in Chicago: Northwestern Memorial Healthcare, the Ann & Robert H. Lurie Children's Hospital of Chicago and the Rehabilitation Institute of Chicago. Over the last five years, NUCATS served 3,174 investigators and assisted in the publication of 974 scientific papers.
The new CTSA activities are funded by NCATS grants UL1TR001422, TL1TR001423 and KL2TR001424.