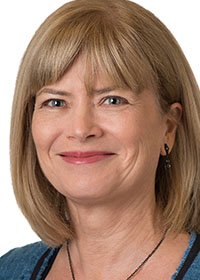 Kathleen Green, PhD, Joseph L. Mayberry, Sr., Professor of Pathology and Toxicology in Pathology and Dermatology, has received a Humboldt Research Award in recognition for her significant scientific achievements in epithelial cell biology.
Known as a leader in the field, Green studies how cells stick together, not only to provide mechanical strength to tissues, but also to regulate chemical signals important for development and differentiation.
The award, granted by the Alexander von Humboldt Foundation in Germany, an organization that supports international academic cooperation between scientists and scholars, also provides Green the opportunity to carry out sabbatical work at the University of Cologne in Germany.
"I am incredibly honored to have been awarded an Alexander von Humboldt Research Award," said Green, who is also associate director for basic sciences research at the Robert H. Lurie Comprehensive Cancer Center of Northwestern University and associate core director of the Skin Tissue Engineering Core. "I've never had the opportunity to take a sabbatical in my almost 30 years on the faculty at Northwestern, and I am incredibly excited and privileged to be afforded this opportunity to 'reboot,' think and explore new research areas."
Green came to Feinberg to conduct postdoctoral research in cell biology, and she joined the faculty in 1987. Since that time, she has received many accolades, including Feinberg's Distinguished Woman in Medicine and Science award and, most recently, the Society for Investigative Dermatology's Albert M. Kligman/Phillip Frost Leadership Lecture Award for significant contributions to the understanding of structure and function of skin.
In Germany, she will be hosted by Carien Niessen, PhD, a professor at the University of Cologne who focuses on understanding the molecular mechanisms that drive polarization in multi-layered epithelia to coordinate cell fate, growth and innate immunity with cell and tissue architecture.
"During my sabbatical, Dr. Niessen and I will be developing collaborative projects between our laboratories designed to determine how cell-cell adhesions studied in the Green lab are integrated with the polarity machinery to drive complex tissue morphogenesis," Green said.
"I plan to take advantage of expertise in protein-protein network analysis and state of the art proteomics and lipidomic core facilities in Germany. I will also travel locally in Germany to visit laboratories in Munich, Leipzig and Göttingen," she added. "I also hope to come back speaking German!"