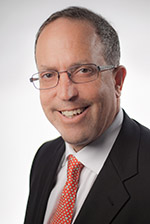 Michel Kliot, MD, has been appointed as interim chair of the Department of Neurological Surgery. Dr. Kliot is a professor in the department, a neurological surgeon at Northwestern Memorial Hospital and an expert in peripheral nerve disorders.  Dr. Kliot succeeds Andrew Parsa, MD, PhD, who passed away April 13.
"Andy was an inspiration to many at Northwestern and around the country, and his presence will be felt for years to come. We are committed to honoring his legacy," said Eric G. Neilson, MD, vice president for Medical Affairs and Lewis Landsberg Dean. "Michel is an experienced leader with the skills and knowledge to carry on the missions of the Department of Neurological Surgery. He is dedicated to research and training the next generation of neurosurgeons to provide the best care possible to patients."
Dr. Kliot and Dr. Parsa were close colleagues at the University of California San Francisco (UCSF) and, later, at Feinberg.
"I joined Feinberg to join Andy's team, and what a team it has become," said Dr. Kliot. "Northwestern's neurological surgery research has exploded. We are attracting the very brightest neurosurgical resident candidates. The catalyst and maestro behind these remarkable achievements was Andy Parsa. As interim chairman I promise to do my very best to help our department to continue to live and realize his dreams before passing it on to another great chairman."
During his 30-year career, Dr. Kliot has focused on the evaluation and surgical treatment of a wide range of peripheral nerve conditions, including entrapment syndromes, trauma to the brachial plexus and other nerves, peripheral nerve tumors and other types of masses. He has published more than 100 peer-reviewed journal articles on peripheral nerve disorders and their treatment, including publications in Science, Nature, The Lancet and Neurology.
Before joining Northwestern in the summer of 2014, he was a neurosurgeon and clinical professor at the UCSF Medical Center. For more than 20 years, he was a neurosurgeon and professor of medicine at the University of Washington in Seattle, and was the director of the Peripheral Nerve Center. He also served as chief of Neurosurgery at the Seattle Puget Sound Veterans Affairs Health Care Center and helped launch three successful biotechnology start-up ventures.
Dr. Kliot completed his medical degree at Yale University, a residency at Columbia University Medical Center in Neurological Surgery and a fellowship at the University of Toronto and Louisiana State University, in peripheral nerve surgery.
A search to find the department's permanent chair will begin shortly.