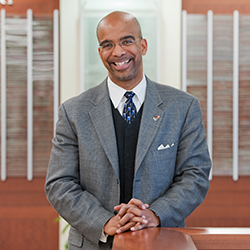 Clyde Yancy, MD, Magerstadt Professor and chief of Cardiology, has been named Vice Dean for Diversity and Inclusion, a newly created position at Northwestern University Feinberg School of Medicine that deepens our interest in a growing community of students, residents, fellows and faculty.
"Dr. Yancy is an experienced and trusted leader whose outstanding accomplishments in academic medicine are ideally paired with a passion for promoting a culture of diversity," said Eric G. Neilson, MD, vice president for Medical Affairs and Lewis Landsberg Dean. "At the medical school, we are dedicated to growing all human potential across a broad spectrum of endeavors, from educating future students and physicians to clinical practice serving a growing diversity of patients as well as important health problems needing more academic study. Clyde will help us realize that commitment while enriching our values at Feinberg."
The Vice Dean for Diversity and Inclusion is responsible for growing new programs at Feinberg and supporting existing efforts through the Office of Diversity, the McGaw Diversity Council, and the school's relationship with National Medical Fellowships, a nonprofit organization dedicated to improving the health of low-income and minority communities by increasing the representation of minorities in healthcare.
"As a leading academic medical center in the United States, Northwestern must be outstanding in all dimensions of contemporary medical science and healthcare. Among the most distinguishing attributes of leading academic medical centers is a strong and palpable presence of diversity. We have much in play already in the diversity space but we've not yet seen the benefit of a coordinated and focused effort," Dr. Yancy said. "Northwestern, as a Chicago-based institution, has the opportunity to parallel the richness of culture that this great community provides."
In his new position, Dr. Yancy will develop a strategic plan for diversity; assist in the engagement and recruiting of faculty, fellows, residents and students from traditionally underrepresented backgrounds; build a Feinberg School of Medicine Diversity Council; increase offerings of new seminars and lecture series; and enhance mentoring programs.
"My goals are simple: to foster a receptive culture, grow diversity and further strengthen our institution. Through increased diversity we will benefit from a deeper talent pool, a broader idea base and an environment where everyone feels welcomed, including our students, faculty, staff, care providers, investigators, physicians and especially our patients," Dr. Yancy said. "This is as it should be for a leading academic medical center."
Dr. Yancy will continue to serve in his current capacities at Feinberg. In addition to chief of Medicine-Cardiology, he is a professor in Cardiology and Medical Social Sciences and associate director of the Bluhm Cardiovascular Institute. He joined the faculty in 2011, after serving as chief of cardiothoracic transplant services and director of the Baylor Heart and Vascular Institute at Baylor University. Dr. Yancy is also a former president of the American Heart Association (AHA). In 2014, he received the AHA's Gold Heart Award, the organization's highest honor, one of many awards that have marked his career to date.
Dr. Yancy received his medical degree from Tulane University School of Medicine in New Orleans in 1982 and completed post-graduate training in internal medicine and cardiology at Parkland Memorial Hospital and the University of Texas Southwestern Medical Center in Dallas, where he received his first faculty appointment in 1989. His academic and professional interests include cardiomyopathy, heart failure, hypertension, preventive cardiology, quality of care and ethnic and racial disparities in cardiovascular disease, topics on which he has authored more than 350 publications.