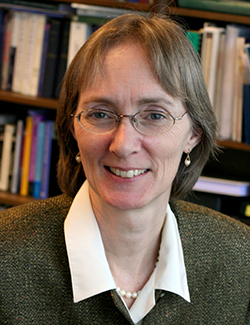 Linda Emanuel, MD, PhD, Buehler Professor of Geriatric Medicine, has worked in palliative and end-of-life care for three decades, but she still realized something new during her own experience as a patient. She shared these thoughts in a letter to the editor published in the Journal of Palliative Medicine.
Emanuel said she learned an important lesson during her own brush with cancer: that physicians need to help patients find joy in the present, and not simply emphasize hope for the future.
"We need to change the focus to what gives the person joy now," said Dr. Emanuel, director of the Buehler Center on Aging, Health & Society and a member of the Robert H. Lurie Comprehensive Cancer Center of Northwestern University.
Two weeks before her 60th birthday, Dr. Emanuel found out that she had an ovarian mass and was referred to an oncologist. She said she reacted calmly – years in the field had prepared her to face mortality. But she was surprised to find that joy – not hope – became her priority as a patient. She wrote about her new awareness in the letter:
"All those articles and conversations about hope and truth telling and the therapeutic relationship came back to my mind and suddenly seemed misdirected. Even in palliative care we talked about offering patients something realistic to hope for. We'd bought this assumption as if it were a truth that people must have hope. Now I found that I disagreed. People must have joy. Loss of joy is an emergency. Joy should be a sixth vital sign. We should have rapid response teams – mental health providers and chaplains to search and rescue people lost without joy."
Dr. Emanuel describes the joy she found in unlikely places – in cabs and elevators and during everyday interactions – as well as in making connections with the people around her. She also explains how losing access to joy made her a difficult patient.
In the end, the mass turned out to be benign. But according to Dr. Emanuel, the scare taught her important lessons that should be shared with other healthcare providers – practicing physicians and training students alike.
"If I'm thinking about hope during conversations with patients, I might focus on prognosis and what's reasonable to expect in the time available. That's a good conversation to have. But if I'm also focused on joy, I'll ask about what is important to them, what gives them joy and connection in life," she said.
Dr. Emanuel's experience helped her form the belief that approaching the end of life with joy and connection can make that time one of the best periods of life – as important and meaningful as partnership or having children, she said.
"The work I'd been doing forever came into a different view," Dr. Emanuel said. "It was a kaleidoscope-like experience that will change the way I practice."