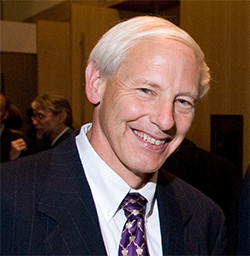 James L. Schroeder, MD, '81 GME, longtime associate professor in Medicine-Rheumatology and former president and chief executive officer of Northwestern Medical Faculty Foundation (NMFF), passed away on Dec. 30. He was 62.
Throughout his 30-year career at Feinberg, Dr. Schroeder established himself as a highly respected leader, teacher and physician, most recently serving as senior associate dean for external relations. From 1999 to 2009, he was president and CEO of NMFF, which has since become Northwestern Medical Group.
"Jim was a great colleague and leader in the department and the faculty practice. He was an exemplary physician and master clinician. He has had, and will continue to have, an enduring impact on our culture and practice in the years ahead," said Douglas Vaughan, MD, chair of Medicine. "He attended Medical Grand Rounds quite regularly the last few months, and I was awed by his fortitude, his spirit and his enduring curiosity. He will be missed."
Born in Akron, Ohio, Dr. Schroeder lived in Wilmette with his wife, Carol. He received his bachelor's degree from Yale University and his medical degree from the University of Virginia. His history with Northwestern Medicine dates to 1978, when he began his residency in Internal Medicine. After a fellowship at Washington University in St. Louis, he returned to Chicago as one of the earliest members of NMFF, joining the Division of Rheumatology in 1983. He also earned an MBA from Northwestern in 1987.
"Jim always supported the vitality of the Division of Rheumatology," said Richard Pope, MD, chief of Medicine-Rheumatology. "He always took great care of his patients – they appreciated his upbeat personality, which I think was part of the therapy. On a personal note, I always enjoyed discussing a variety of issues with him, such as local politics, the economy of medicine and other things, as we sat finishing our notes at the end of the day."
Dr. Schroeder is survived by his wife, four children and two grandchildren.
A memorial service will take place at 4 p.m. Saturday, Jan. 10 at Christ Church, 784 Sheridan Road, in Winnetka. A reception will follow at Indian Hill Club, 1 Indian Hill Road, in Winnetka. Donations in Dr. Schroeder's memory can be made to the Northwestern University Arthritis Research Society (Attn: Maureen Mizwicki: m-mizwicki@northwestern.edu).