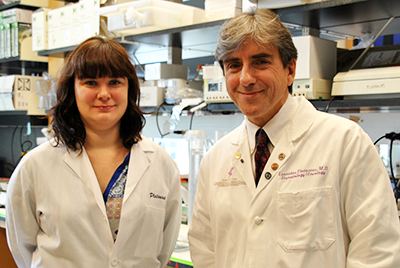 Though normally considered a dangerous poison, arsenic is actually used to help cure one kind of leukemia. A new Northwestern Medicine study has unearthed the mechanisms behind the chemical's anti-cancer effects to show how arsenic could also combat other types of leukemia.
Currently, a compound of arsenic called arsenic trioxide is used in very small doses to treat patients with acute promyelocytic leukemia. The small doses do not work against other types of the cancer, and larger doses would be toxic.
"We wanted to understand the mechanisms by which other types of leukemia can escape the anti-cancer effect of arsenic," said Leonidas Platanias, MD, PhD, director of the Robert H. Lurie Comprehensive Cancer Center of Northwestern University and senior author of the study.
With postdoctoral fellow Elspeth Beauchamp, PhD, first author of the paper, Dr. Platanias identified how a defensive pathway stops arsenic from killing cancer in other leukemia cells. Their findings were published in Molecular Cancer Therapeutics.
"Here for the first time, we provide evidence that arsenic can bind directly to a kinase called AMPK. This creates a series of events that correlate with the anti-leukemic activity," Dr. Platanias said. "We can target another kinase engaged in the process, called RSK, to make leukemia cells more sensitive to arsenic."
He said that this new knowledge could help scientists develop combination therapies that treat a wider variety of leukemia types with arsenic while blocking the defensive pathways working against the compound – hopefully leading to better treatments for patients.
The work was supported by National Institutes of Health (NIH) National Cancer Institute (NCI) grants CA121192, CA77816 and CA155566.