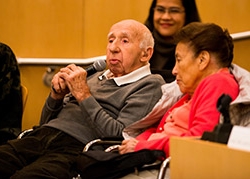 Faculty, staff, alumni and friends gathered November 14 to celebrate and honor the accomplishments of Jeremiah Stamler, MD, founding chair of the Department of Preventive Medicine. The occasion not only marked a celebration of a 70-year career, but also Stamler's 95th birthday.
During the event, colleagues, protégés and trainees expressed their gratitude, shared their favorite memories and highlighted the history of his accomplished career.
"This is a very special day for all of us. You are one of my heroes, and I think everybody in this room can say the same," said Donald Lloyd-Jones, MD, senior associate dean for Clinical and Translational Research, and chair of the Department of Preventive Medicine.
A Public Health Hero
Over the course of his career, Dr. Stamler published more than 560 peer-reviewed papers, 840 co-authored papers and 22 books and monographs, with his work cited more than 25,000 times in 147 different countries.
"These important metrics demonstrate the impact your work has had," Dr. Lloyd-Jones said to Dr. Stamler, "but I think it's more important for us to acknowledge the remarkable things the content of his work has done in improving public health. The messages your work has disseminated around the world have saved millions of lives and prevented countless heart attacks and strokes."
An Impactful Mentor
Throughout Stamler's lengthy career, he mentored more than 34 scientists, providing career advice, reviewing their papers and collaborating on research. Speakers at the event said the relationships he built with his protégés and trainees would impact science for decades.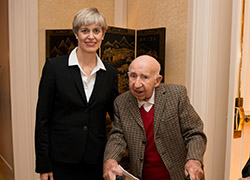 At the most recent American Heart Association's (AHA) annual meeting, Stamler received yet another award: he was presented with the Eugene Braunwald Academic Mentorship Award, the highest mentoring honor awarded by the AHA.
"This award represents his ongoing impact on future generations of researchers in our field," Lloyd-Jones said.
One of his long-time mentees, Christina Shay, PhD, research assistant professor in global health at the University of North Carolina, spoke of at the event, noting Stamler's unique communication style and personalized approach to mentoring.
"Working with Dr. Stamler isn't like your typical mentor relationships. If you are working on a paper with him, make sure to set aside a few hours for review. He likes to review in-person at his condo in Chicago and it is usually accompanied by a wonderful meal and socialization, " Shay said. "I have lots of wonderful memories of spending time with Dr. Stamler and his wife Gloria at their condo in Chicago."
A Northwestern Legacy
Stamler began his career at Northwestern in 1958 when he joined the Department of Medicine as an assistant professor. In 1972, he became the first chair of the newly created community health and preventive medicine department. He served in that position for more than 18 years before becoming professor emeritus in 1990.
"It is to my great satisfaction that the success of a little department that you could count the faculty members on one hand has come to be recognized around the world," he said.
During his tenure, he also helped develop the school's Master in Public Health program, served on hundreds of committees and lectured across the U.S. and abroad on cardiovascular disease prevention and control.
Most recently, The Jeremiah Stamler Professorship in Preventive Medicine was established in his honor. Mary McGrae McDermott, MD, professor in Medicine-General Internal Medicine and Geriatrics and Preventive Medicine, was invested as the first holder of the professorship on October 30, 2014.
"It's truly a privilege to be the first holder of the Jeremiah Stamler professorship, and I am reminded everyday of the legacy and the example he has set in improving public health," McDermott said. "This honor inspires me more than ever to follow his example to the best of my ability and work tirelessly and with passion towards improving the public health around the world."