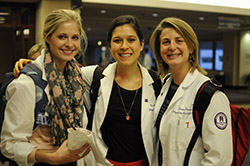 During National Physician Assistant Week, physician assistant (PA) students celebrated with peers across the country taking time to remember why they decided to pursue a career in this medical profession and share their excitement for the future of the field.
Throughout the week, students handed out lifesavers candies in the Prentice Women's Hospital and chatted with passersby to raise awareness about the training and career of PAs. The annual celebration recognizes the graduation of the first class of PA students from Duke University.
"This week is really about celebrating the profession and paying tribute to those physician assistants that cleared the way for us," said John Adamson, a first-year PA student. "They lined up a great guest lecture here and it helped me understand what my role is going to be and how I will help in a healthcare setting."
The fifth in Illinois, Northwestern's PA program was established to help meet the growing need for primary care providers and the demand for PAs. The two-year master's degree program, which emphasizes problem-based and team-based learning, accepted its first class of 30 students in 2010 and includes one year of classroom instruction followed by a year of clinical rotations.
"The problem-based learning here at Feinberg has met my expectations as far as being able to learn independently, learn in a group and teach one another. The model has proven to be very effective for me," said Diane Friedman, a first-year PA student.
A Changing Healthcare Landscape
Friedman was inspired listening to PA Week keynote speaker Elizabeth Roe, director of Constituent Organization Outreach and Advocacy at the American Academy of Physician Assistants on Tuesday afternoon.
Roe spoke on how PAs are communicating their views on laws and regulations, advocating for team-based medicine and collaborating on the development of new treatments and technologies. She encouraged students to take the opportunities that are presented before them.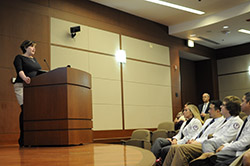 "The world is your oyster and everyone is looking to you to lead the change in healthcare," Roe said in her remarks. "Together we will all work together and meet this challenge and take the profession to even greater heights."
Reaching Milestones
Before coming to Feinberg, Friedman worked as a medical assistant alongside PAs in a clinic in Boulder, Colorado. Watching the opportunity to develop relationships with people and help them reach their medical goals solidified her interest in pursuing a career as a PA.
Months into her training, Friedman feels she reached her first milestone when she examined her first patient.
"We had an opportunity to come into the hospital and meet with a patient and do a full history and physical. It was exciting because of the anticipation of seeing patients and how they really respected us," she said. "It is so inspirational to see in patient's eyes that they are positively affected by the information you give them and you can start to see the way change is possible and how they can integrate it into their lives."
As Friedman continues in the program, she looks forward to using information she learns to give patients the tools they need to meet their health and wellness goals and to start positively making change in the PA profession.
"It's a great time to be reminded of our motivations for being in PA school and to celebrate where the field came from and where it is going," Friedman said. "I wanted to be a PA to educate and empower people to make changes that positively affect their health. I think many of us are excited about getting into the PA field at a time when it has so much growth and potential for us to change it in a positive way."