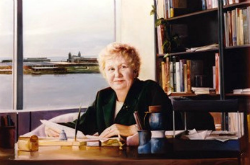 A memorial has been scheduled in honor of Martha Pitel, PhD, RN, professor emerita and former chair of nursing education at Northwestern University, who died in April at the age of 93.
Pitel came to Northwestern University as chair of nursing education in 1978. Serving in a newly created position, she established the university's bachelor's degree program in nursing. She retired from Northwestern in 1986.
"Her long history of leadership within the nursing profession has left a legacy that many contemporary nurses know well," said Kathleen Sherrell, PsyD, associate professor emeritus in Psychiatry and Behavioral Sciences and longtime friend. "Martha inspired many by her example, and mentored those to complete doctoral studies, to develop their own research and to become experts in teaching other nurses. She demanded much of both students and faculty, but never less than she demanded of herself."
Pitel began her nursing career at Charles Wilson Memorial Hospital School of Nursing in Johnson City, New York, in 1942. She completed basic training as a nurse in the U.S. Army in 1944 and was commissioned as a Second Lieutenant. After the war, she received bachelor and master's degrees in nursing from Case Western Reserve University, and in 1954, earned a doctorate in anatomy and physiology from the University of Minnesota.
Between 1954 and 1959, Pitel taught nursing at Syracuse University and Yale University School of Nursing and Medicine, and studied fetal endocrinology at the Université de Paris. Following her year abroad, she taught nursing at the University of Rochester School of Medicine and Dentistry, New York.
In 1964 she accepted the position of Chairman of the Department of Nursing at the University of Kansas, where she established the university's first graduate program in nursing. From 1971 to 1974 she was director of The American Nurses' Foundation in New York, New York and received the Distinguished Alumni Award from Case Western University and University of Minnesota.
Before coming to Northwestern in 1978, Pitel was a professor of nursing at the University of Illinois at Chicago. Throughout the 1970s and 1980s, she traveled to Russia, Japan, Brazil and Egypt to teach nurses and served as a national consultant for the U.S. Air Force Nurse Corps. Throughout her career she was a member of several professional organizations including the American Academy of Nursing, American Association for the Advancement of Science and American Association of Colleges of Nursing.
Northwestern University created a division of Allied Health Sciences in 1973 and admitted its first class in 1979 with students earning a Bachelor of Science in Nursing. In 1982, the University established a graduate program in nursing and in 1985 created a new University Center for Nursing. The nursing center closed in 1988, with ongoing programs ended by 1990.
The memorial service for Pitel will be held October 21, from 2 p.m. to 3 p.m. on the 3rd floor Event Center in the College of Nursing at the University of Illinois at Chicago. Pitel died on April 19, 2014 after a long illness. Those interested in attending the memorial service, please RSVP to Katie Corboy by October 13.