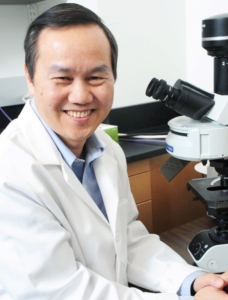 Northwestern Medicine scientists identified a new signaling pathway by investigating the role of a protein, DCBLD2, in glioblastomas, a deadly type of brain tumor and head and neck cancers.
The paper was recently published in the Journal of Clinical Investigation.
The role of DCBLD2 in human cancers is not fully understood or studied in human cancers including glioblastomas. Shi-Yuan Cheng, PhD, professor in Neurology, and his team found high levels of these proteins in glioblastoma tumor specimens and examined how they function in cancer cell lines in glioblastomas and head and neck cancers.
Cheng's results describe how this pathway leads to enhanced tumor growth. Cheng found that DCBLD2 works along with receptor protein EGFR that is a so-called "cancer driver" to activate other proteins that drive tumor growth, development and resistance to treatments.
"DCBLD2 is an understudied protein for its role in human diseases including cancers," said Cheng, also a member of the Robert H. Lurie Comprehensive Cancer Center. "We showed that expression of DCBLD2 is increased in clinical glioblastomas and demonstrated that DCBLD2 signals a chain reaction causing EGFR to drive tumor growth."
Furthermore, his study revealed a close correlation between expression of these proteins along with poor prognoses in patients with glioblastomas and head and neck cancers.
"The role of DCBLD2 in cancer progression and tumorigenesis suggests the necessity and feasibility of targeting this protein in the tumor and in developing effective treatments for human cancers," Cheng said.
The study was a collaboration among investigators at Northwestern University, Duke University, University of Pittsburgh, Jiao Tong University in China and several other institutions in the U.S.  The research was funded by National Institutes of Health grants R01CA130966, R01CA158911, a Zell Scholar Award from the Zell Family Foundation, funds from the Northwestern Brain Tumor Institute and Department of Neurology, and a Brain Cancer Research Award from the James S. McDonnell Foundation.