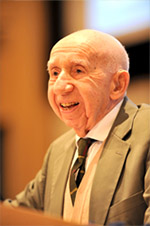 Jeremiah Stamler, MD, founding chair and professor emeritus of Preventive Medicine-Epidemiology, was named the 2014 recipient of the American Heart Association's Eugene Braunwald Academic Mentorship Award. He devoted his professional career to researching the cause and prevention of cardiovascular disease.
"It's a great pleasure for me to receive the AHA award," said Dr. Stamler. "Within a decade's work since a few of us began the effort to prevent the major adult cardiovascular diseases – hypertension, heart failure, stroke, etc. – a cadre has been created nationally and worldwide, enabling this effort to go forward. Mentoring of younger colleagues is critical for our future to be in good hands. This is a matter of great satisfaction for me."
The American Heart Association will present the award, one of its highest honors, at the AHA Scientific Sessions' Opening Plenary in Chicago in November. The award recognizes an individual whose academic career includes a long-term record of successful mentoring of promising young academicians.
"I truly cannot think of anyone more deserving for this honor than Jerry, who, at the age of 94 years, remains incredibly active in the pursuit of mentoring and the discovery of new knowledge, and is truly one of my heroes," said Donald M. Lloyd-Jones, MD, ScM, chair of Preventive Medicine. "For Jerry, mentoring is not just something one does in addition to science; it is an integral part of the collaborative discovery process."
Dr. Stamler joined Northwestern in 1958 as an assistant professor in the Department of Medicine. He became the first chair of the newly created Department of Community Health and Preventive Medicine in 1972, a position he held for 16 years. Dr. Stamler, who developed the school's Master of Public Health program, was the distinguished Dingman Professor of Cardiology at the medical school from 1973 to 1990.
Dr. Stamler has served as chair of the Council on Epidemiology and Prevention for the International Society and Federation of Cardiology. As a leader in the AHA, he served as chair of its Council on Arteriosclerosis and Council on Epidemiology and Prevention. Dr. Stamler has received numerous awards and honors, including the following AHA awards: Award for Outstanding Efforts in Heart Research, Award of Merit, Service Award, Research Achievement Award, Distinguished Achievement Award, and the prestigious Gold Heart Award. The AHA also honored Stamler when it established the Jeremiah Stamler, MD, New Investigator Award.
Other significant honors include the Donald Reid Medal from the Joint Committee of the London School of Hygiene and Tropical Medicine and the Royal College of Physicians; the National Cholesterol Award at the First National Cholesterol Conference; the James D. Bruce Memorial Award for Distinguished Contributions in Preventive Medicine from the American College of Physicians; and election to the Center for Science in the Public Interest's Nutrition Hall of Fame.