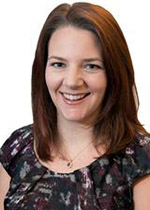 Northwestern Medicine scientists have developed a new model for predicting the probability of major blood transfusion during spine surgery.
It applies to adults undergoing complex spine fusion surgery, which joins together vertebrae in the spine to eliminate painful movement. The surgery can result in significant blood loss and the need for blood transfusion.
The model uses variables that can be determined before surgery to foresee when major transfusion will be necessary.
"This allows the anesthesia team to prepare the patient both mentally and physically for the complexity of their surgery and anesthetic care plan," said first author Louanne Carabini, MD, '09, '10 GME, assistant professor in Anesthesiology. "We found that the length of surgery as well as the complexity of the operation are both predictors of major blood loss. The patient's history of anemia adds to the risk of them requiring major transfusion."
The model is the first to focus on major transfusion, usually about 40% or more of a patient's blood volume, during the intraoperative period – while surgery is being performed. It works for all types of spine fusion surgery, including cervical (neck), thoracic and lumbar spine deformity surgery.
The study used data from 548 patients to develop the model, and then tested its validity on 95 additional patients.
The findings were published in the Journal of Neurological Anesthesiology.
"These findings are important especially in the rising culture of cost effectiveness when all preoperative testing, preparedness and intraoperative management must be justified with a risk benefit analysis," said Dr. Carabini.
For example, the model can help predict when the benefits of blood conservation strategies outweigh the risks. Some methods are only useful when blood loss exceeds a certain amount.
"The findings for this study are one piece of our bigger research goal to provide an all-encompassing specialized perioperative care plan for patients undergoing spine fusion surgery," said Dr. Carabini.
Additional Northwestern Medicine spine research includes a study published in World Neurosurgery about the hospital's High Risk Spine Protocol to manage patients at risk for major blood loss. Another paper published in Spine examines inaccuracies in the commonly used Revised Cardiac Risk Index for predicting postoperative Major Cardiac Adverse Events in complex spine fusion surgery.
This study was supported by the Melissa Fragen Faculty Development Research Award from the Department of Anesthesiology.