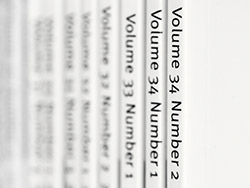 Northwestern University ranks 14th for most highly cited researchers worldwide in a list compiled using data from Thomson Reuters.
The researchers earned placement on the list by writing the greatest numbers of articles and reviews officially designated as highly cited papers – those ranking among the top 1 percent most cited for their subject field and year of publication.
There are 28 researchers whose primary affiliation is Northwestern on the list – six of them scientists from Northwestern University Feinberg School of Medicine – ranking Northwestern 14th among institutions with the highest number of highly cited researchers, according to a paper that analyzed the data.
"This is quite a remarkable accomplishment," said Kristi Holmes, PhD, director of the Galter Health Sciences Library. "The placement of Northwestern among such esteemed institutions clearly demonstrates that our faculty not only have high levels of productivity, but that their discoveries are significant and push science forward on the global level, as evidenced by these high citation counts."
The data in the list came from papers published in science and social sciences journals from 2002 through 2012.
The Feinberg scientists included in the list and recognized for their exceptional impact on their fields are: